The consolidated market capitalization of all cryptocurrencies has touched the mark of 3 Trillion Dollars. And all of that is possible only because of their building block technology i.e. Blockchain. Now, businesses are thriving towards shifting all asset classes to the blockchain. And the fact is, such tokens based on blockchain technology will reflect more ownership, rights, and obligations.
The most influenced sector that we are currently noticing is financial information technology. An ongoing cryptocurrency trend is only a fractional part of the whole. When you look at the wider picture, only then you can see the true potential of blockchain. For example, there is a matrix of payment networks, credit, and other securities that are worth hundreds of Trillion of dollars.
In day-to-day activities, it seems your transactions are done pronto but the back-end processes are far more complicated and obviously time-consuming. This is because the existing technology is over a decades-old. For instance, you paid an EMI but it does not process at the time it gets deducted from your bank account. Instead, it took days and weeks to settle the amount. With the help of advanced blockchain technology, all these tedious procedures can be dissipated.
Recently, the Wall Street Mammoth "The Goldman Sachs" bank praised the blockchaining and backed its potential especially in the Metaverse and Web 3.0 related applications.
Research of Goldman Sachs on Blockchain
In order to get a better understanding, the investment bank also performed thorough research and found some amazing insights. Here are the outcomes of the research.
A group of analysts led by Rob Hall published a note on December 14. They stated in today's era, blockchain is the only technology that can "uniquely identify any virtual object independent of a central authority". Especially, in the metaverse, where the ability to track the ownership of assets is possible.
Regarding Web 3.0, the same group of analysts said, it is capable of "partially eliminating the centralized control". With the help of block chain the users will be able to log in to the Web 3.0 application without the need for any third-party applications like Google, Facebook, etc.
Just like we do, Goldman Sachs also believes that cryptocurrencies are just the tip of the iceberg, the sea of blockchain has far more to offer. Since its inception in 2017, we have seen the live practices in various sectors from Banking to media and communications.
When asked how companies will get affected by the blockchain that is completely independent of the centralized model, Sachs said, "Investment implications are hard to predict at this juncture, but companies who are dependent on centralized control of user identity will likely find their business models challenged by the adoption of blockchain,"
The ownership and rights required for the creation and management of metaverse can only be achieved through the implementation of blockchain. For those who don't know, the metaverse is defined as a digital world that came into existence by the amalgamation of virtual reality, augmented reality, and the internet.
Understanding the concept of blockchain is not everyone's cup of tea. But sooner or later, you have to learn about its fundamentals because in the forthcoming future blockchain is going to be a part of our daily lifestyle. Now it's up to use the public-private partnership for steering the Blockchain development in the right direction.
Most Anticipated Future Blockchain Applications
From 2019 to 2025, the global blockchain market is expected to grow at a pace of 69% CAGR. You can have the idea of the popularity of this technology from the fact that as of now 70 Million Blockchain wallets have been created.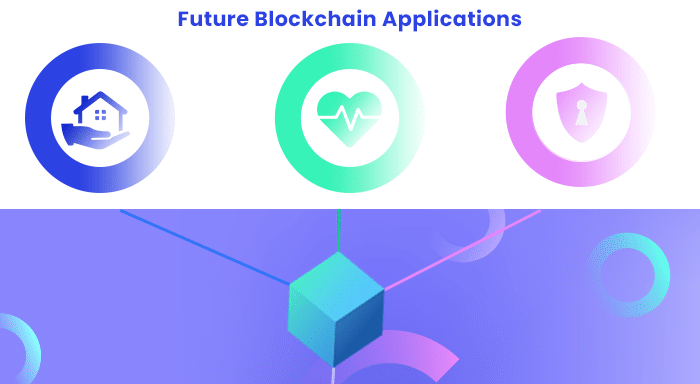 Now, let's have a look at some sectors that are going to adopt this emerging technology in foreseeable future.
Land Registry in Real Estate: There is a company based in California named "Propy". It is a real estate marketplace with a decentralized registry system in place. It even offers real estate property in exchange for selected cryptocurrency.
Sensitive medical data transfer for the Healthcare sector: BurstIQ from Colorado has utilized big data and blockchain technology to share highly sensitive information between doctors and their patients. After mining the big data, the software comes with some parameters, based on the resulted framework, you will know what data should be shared.
Internet of Things and Cybersecurity: There are a handful of companies that have succeeded to enable cybersecurity based on blockchain for IoT devices. It means the passwords and biometrics will no longer be saved on the centralized server, instead, they will build on blockchain. In short, from now on, IoT devices will be impossible to hack (virtually).
What should we Expect now…
Make peace with the fact that "The Blockchain is here to stay". And after looking at the current growth rate, it won't be wrong to say that major upcoming technologies will be based on blockchain. In addition, it will also lower down the data breach to a great extent. We only need to steer it in the right direction as developer and user too.