A Great Marketing Funnel is a Window to your Business. It helps in making strategies to convert the Leads into paying Customers. Because you can get to know the Customer journey, chances are very high of Increasing sales by a double-digit percentage point.
You made and shared your CRM software products and services worldwide. You applied every smart trick to fetch precious leads. But nobody these days is buying from your company. Now the question here arises: why do prospects drop off before buying from your business? Do they face any hurdles? When did they stop purchasing from you?
This whole process you can get to know when you have the Marketing funnel in your business. Every Customer Journey in your hand to play Smart action in the future. Let's dig a little deeper to know what exactly it is:
What is a Marketing Funnel ?
This Funnel of Marketing means it helps you to know how customers come to your business, what he/she likes the most, and how they purchased from your company. Every Journey from starting till the end is at your fingertips. The significance of this funnel is to understand the pain points of the Customer and also what they need the most. By offering them phenomenal service you can win the race of Improving sales and Improving efficiency.
"69% of Marketer's main goal is to convert Leads into Customers"
Two Years ago in 2020, we saw a post on Social media
"Hello! I need your help. My CRM Business is at its peak these days. Leads are loving our products and valuable services for their business growth. Nevertheless, for the last two weeks, we are failing to close the deals. The Marketing Team is giving their hundred percent but I am clueless about what the company is missing. Suggest me something."
We asked, "Have you included Funnel for the Marketing team?"
He said, "No! How it may help my company?"
We explained, "See, it's good to know that you have gained so many leads for your firm. But Funnels for your Marketing team should be there. It is another mind-blowing strategy of Marketing. Well, closing deals require Sales and Marketing team effort. The funnel of Marketing enables the sales team to get a deeper insight into the Lead's behavior. Benefit? It helps you to know exactly what the lead is looking for. Getting such hints is a great help to close deals."
"Businesses can use Marketing Funnel without breaking their Budget"
How does this Strategy help in Improving Conversions?
This Marketing strategy is Giant among other actions because you can improve the Conversion rate now. Suppose you seek all the vital details of one of your leads who are interested in buying. You check out the current stage where he/she is currently on.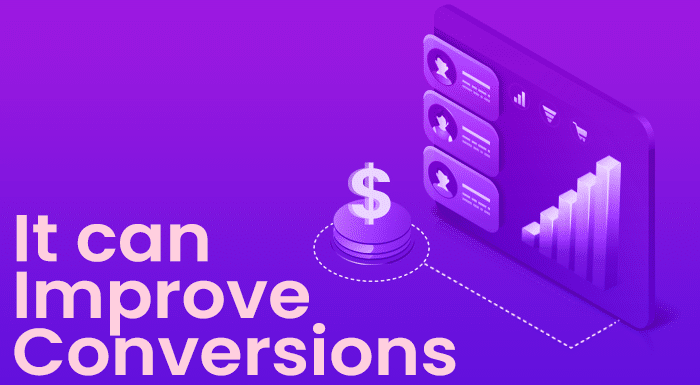 Now it's time to show some personal approach by sending an email to that lead. Share a Great Discount on the product the person needs. There is no need to share discounts on others products because it may confuse your lead. Thus, doing all this increases the chance of improving the Conversion rate without any doubt.
Bear in mind: Sharing Personalized Email will generate 10% Conversion.
Can you Predict Future Sales with this?
Are you tracking your Marketing activities? If yes, then how? Does your Marketing team follow any outdated methods? Eliminate all this by entailing a Funnel strategy in your company. Marketing teams should adapt this strategy to know how their activities are performed. The biggest benefit is you will get to know the Lead conversion at each stage.
You will not only grab the leads but also can gauge how many Leads will turn into customers in the future. This unrivaled strategy can even help in making changes if you believe you need more smart tactics.
Marketing Team can grab Automation Advantage
Automation is everything today. If you are seeing that a few redundant tasks are killing productivity then only automation can save you. You already know its value in Customer Service. So, let's understand it for the Marketing team. After you introduced and curated the funnel for Marketing, automation will help you in saving time and money.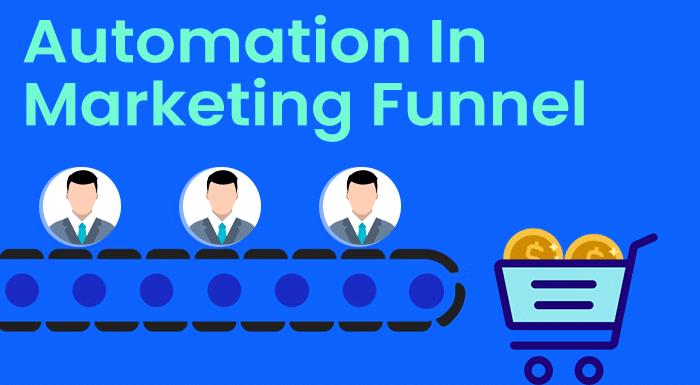 Through this, you can send emails automatically to your leads according to their stages. This saves a copious amount of time and manual effort. Beyond just saving your time, the team of Marketing can pay closer attention to Brain-engaging tasks. To outgrow your company, automation is vigorous functionality.
All Important Marketing Funnel Stages to know
There are total of Four stages to know in Funnel for your Marketing business. Let's get a crack-in below-
Starting with the Awareness stage where a lead comes to your business for the first time. Perhaps someone shared a link of your business or they have seen Ads of your Business services and products. Here your role is to catch the important leads for your firm. Apply this easily by grabbing email addresses or through making connections on social media platforms. For better management, you can use enterprise social media tools to increase and expand your reach. This stage is super exceptional to make a good impression and start your relationship with the lead.
The second Awe-inspiring stage of this Marketing strategy is "Interest". The audience who visits your website will get aware of the services and products you are selling. It means they will clearly compare it with others too and then make a decision. How you will nurture them? The only way is to give the best support like sharing free demo services, blogs related to products, etc. You are too close then to nurturing leads for your company because you provided an abundant variety of information.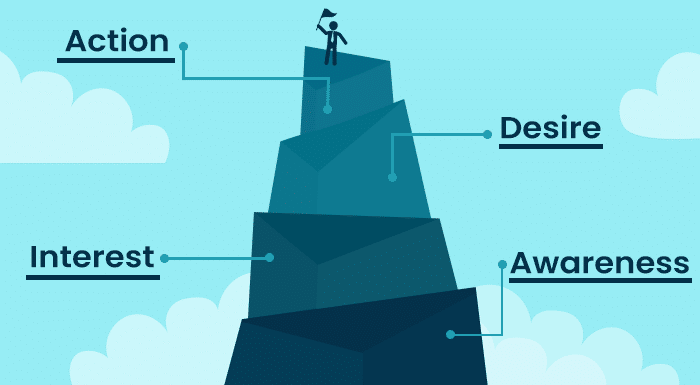 Let's understand this stage with an example: someone visited your website yesterday and added SugarCRM software products to their shopping cart. The checkout process is incomplete as the lead has seen similar products with nice functionalities. What will you do? No idea? An automated email to be shared related to the checkout process. The email should be in a great format that can entice the lead to buy from your company first. The email may also include a Discount on a product.
Now, this is the final stage and we guess you already know what it exactly is. The stage is Action now where a lead finally decides to buy from your company. You converted your lead to a paying customer. We recommend sending a personalized email to that customer by congratulating him/her to be a part of the company. The email should also give a message encouragement that customer to shop in the future too.
Every Crucial Metrics to measure in Marketing Funnel
Some sure-fire metrics we have that everybody should know. All types of businesses that are looking to scale must learn this:
Cost Per Acquisition, popularly known as CPA, means how the team of marketing spends dollars on smart strategies to get new customers for their business. We have seen the organization look for Paid Advertising. Social media, Email Marketing, and much more. Here the marketers spend money to grab crucial customers. People always crave to know how to calculate this. Let us help you here: divide the amount you spend on marketing by the number of conversions. And you get the result.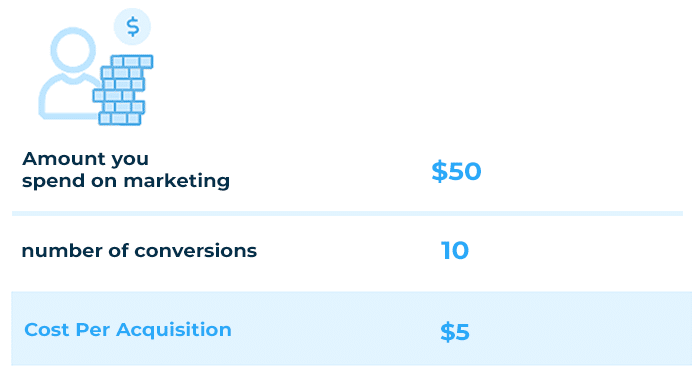 Organizations can now measure the frequency of conversation through this metric. Conversation rate helps you to know the success rate of every stage of the funnel. Marketers will love this metric because it helps in knowing how many subscribers are converted into customers and how many visitors turn into Marketing qualified leads. The company can track every conversion rate per channel such as Organic search, referral, and influencer, etc.
The metric means how crucial that customer is to your business. It is not just about the product and service he took in the past. It is about the whole relationship between the customer and your business team. How can you measure Customer Lifetime Value (CLV)? It can be easily measured by identifying the touchpoints of customers and tracking the Revenue at each point. Further, you can measure by syncing the records to track the journey of customers. Let us help you here how you can improve the CLV: by making a seamless Onboarding process and also via putting efforts into the Customer Experience.
Final Synopsis: This Marketing strategy (Marketing Funnel) is the be-all and end-all for every organization these days. How can you offer great service when you are not tracking your customer's journey thoroughly? Scaling in business needs a funnel as it can alleviate your marketing team's effort and save time. You don't need to research now regarding Marketing funnel stages and which metric to follow first. Every detail we uncovered above. Let's see now how you close the deal faster. Good Luck!