If your business is looking for a shorter distance to track all touch points of its customer then nothing is greater than Customer Data Platform (CDP). It's easy to get lost in the sea of myriad software's to track touchpoints of every customer. But choosing the most under-rated platform like CDP enables you to derive ultimate advantages. In this blog, we can steer you about this software and its importance for every organization these days. Let's start with the definition:
What is CDP?
A new Marketing technology or software that helps in collecting and organizing all types of customer info from different-different channels. By collecting everything related to customers, it creates a single customer database. For Modern marketing Business, it is a tool where the team understands the touchpoints of customers into a single system.
Need an Example to understand this Technology?
Suppose your business is in need to invest in the Best CRM software. You will take help of search engine giant called Google, you will try YouTube platform, will read all reviews of buyers, etc. Right? This is what your journey is going to be before buying it from a company. And without any shadow of doubt, it's a daunting task.
But here businesses play their major role by tracking all those touch points. By tracking all this, they share personalized experience and present what the customer needs the most. Behind all this, the technology or we would say software CDP is there. It aids businesses to aggregate data from multiple sources and create a single user profile.
"Approx 63% of Marketers use CDP to track Customer Journey"
How does the Customer Data Platform work?
The customer who interacted with your company, all the info of them tracked by the software called Customer Data platform. The role of this platform begins by making an accurate profile of that customer and later on, companies deliver personalized messages to all such valuable customers. It makes the profile by aggregating all critical data from a boatload of channels.
We would say from any party channel where a customer comes to purchase something. The software can collect data from channels such as web forms, social media, email, e-commerce data, and the list goes on. It will store the info in a single database to understand the customer better. Also, it's easy for your business team to access that information because everything is under one hood.
"49% of Businesses will use CDP for Machine Learning use cases"
4 Types of Customer Data to know
Now we all are aware of this software that not only collects but also organizes the data. The question is what type of data? Check the list below-
Start with the identity data where the business will see a customer profile via CDP software. It is easier for the businesses to identify each customer and plan according to the information. The data you can seek: Name of the customer, Demographic, Contact, Social media, Account info, and more.
The second would be Descriptive data that just expands the identity of the customer. For example: Banking industry can collect information about the career of their customers too. The data you can get: Career information, Lifestyle, Hobby, Family info, etc.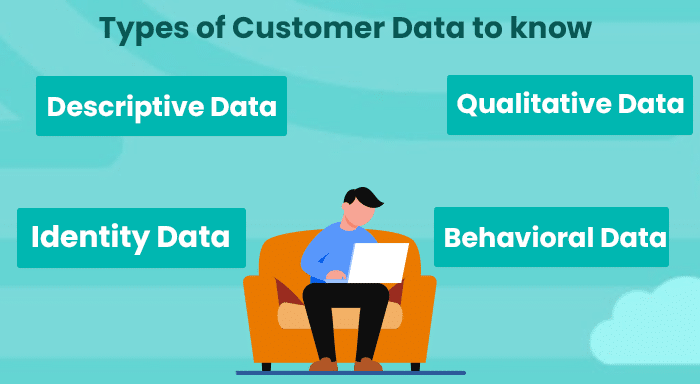 Suppose you have curated SugarCRM Plugins and now you want to know how the customers interacted with all SugarCRM products including the services. It is behavioral data you will see. The type of data you can collect here: Email, Web, Mobile, Chatbots, Video, etc.
Last but not the least and its Qualitative data. The Customer attitude and opinion towards the business, it's all under the qualitative data. This data include the following options: Motivational information such as why or how they purchase, Opinion information such as rating of the product and Attitude information.
"A Giant software among others in this Modern Marketing era"
Software is Advance for 360 Degree view of customers
From starting till last, every business today wants all the customer information at their fingertips. They should know the product customers are interested in buying, about the transaction, every stage of the journey, and all. But the question is the abundance of data you will gain, so is it possible to track?
Yes, via CDP software. The reason why to adopt this frontline software is it gives a 360 degree view of the customer to understand better. Understanding the customer aids business to offer what they like the most. This whole process opens the gate of growth in the market. Ultimately, you will see Conversion Rate soar.
Interested in capturing the performance of a Campaign?
Marketing business landed in the right place because the software called Customer Data platform can provide cloud-level benefits. This software helps in raking all the insights of marketing campaigns they deliver. After getting all critical insights in your hands, you can bring changes and perform much better from the next time.
It even saves you from a hefty income investment here. Getting all the actionable insights helps in making decisions, so you can now invest according to that. Whenever you get the data of your campaign you improve your tricks and your business. Here, we will say Conversion Rate will again boost up.
All you need to avoid Data Silos
First off, let's learn what Data silos are for the organization: data that is available for a particular department but not accessible for every department in business. The disadvantage of following the data silos would be wane in productivity and time-consuming.
How is the software called CDP a helping hand here? Very simple! It helps the organization to avoid the data silos by unifying your customer and employee data. This brings a big relief as everyone has access to the accurate data about the work they are going to do.
The Market size of this software is expected to reach $20.5 Billion in 2027.
43% of users said the software improved Return on Investment.
Note: CRM and CDP software's are not similar to each other. We guided you in our previous blog about this.
Is it really helpful for the Compliance?
This is a question to ponder over. We have seen so many awe-inspiring software's care about data security and all. When working with this technology it definitely improves the emerging data privacy regulation such as GDPR (General Data Protection Regulation) and CCPA (California's Consumer Privacy Act). All these laws are valuable as they demand the company to afford consumers and give full rights to access their precious data.
5 Most-demanding CDPs with all their magnificent features
Not to mention, all the software's are slick, intuitive and can heighten your experience. Let's have a look at the top Five-
We would love to start with the top-tier Customer Data Platform and the name is Segment. Twilio cloud-communication platform purchased this technology and now it is one of the leading technologies in the market. It enables businesses by filling their buckets full of customer data so that a business can share delightful experiences with customers. It's Too simple for the platform to collect and route the customer data here. So, it means understanding the customer need is not so challenging or painful. Moreover, understanding the customer need can be done in real-time. Have you heard of companies like Instacart or FOX? These companies are operating this software.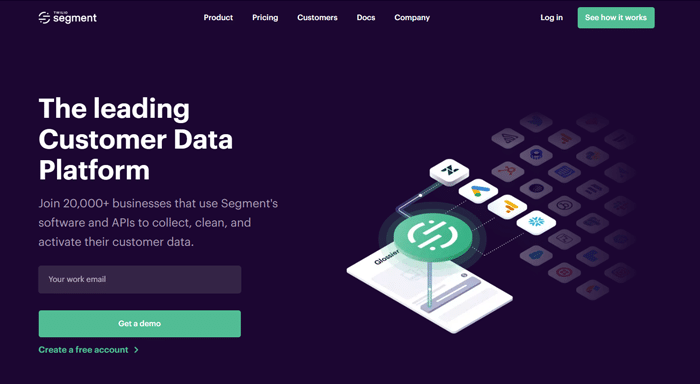 What if we say that around 5k companies are operating a CDP software? Will you first allow your business team to adapt it first? If yes, then the software we are talking about is Totango. A helping hand for every organization that can improve retention, expansion, and can improve reputation in front of customers. It's very intriguing for your company to access real-time information related to customer health and you will stay engaged intelligently with your customers. The most significant! Companies such as SAP or Google are still working on this platform. There is also a Free Plan to adopt.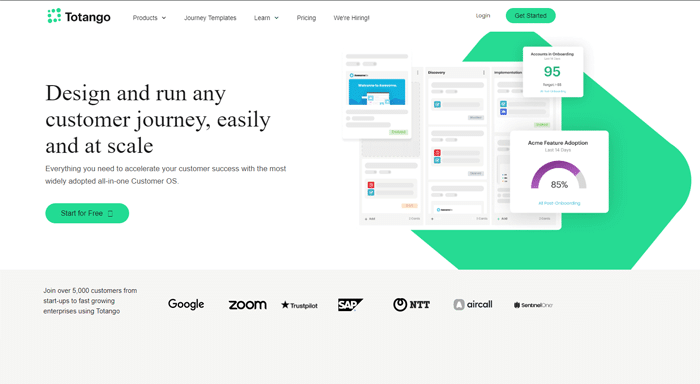 Your one and only motive is to present a delightful customer journey all the time. Sounds great! But that would be possible when pouring dollars on frontline software's like Bloomreach. It offers a great solution to all companies such as AI Driven search, CMS, Marketing automation, and more. When combining all these it is now good to say that business can offer personalized service easily and better. Nevertheless, we believe you must be aware of other salient functionalities such as web analytics, segmentation, automated email responses, A/B Testing, etc. Many companies demand that the software should offer Revenue analytics benefit too. Seek this functionality from here as well.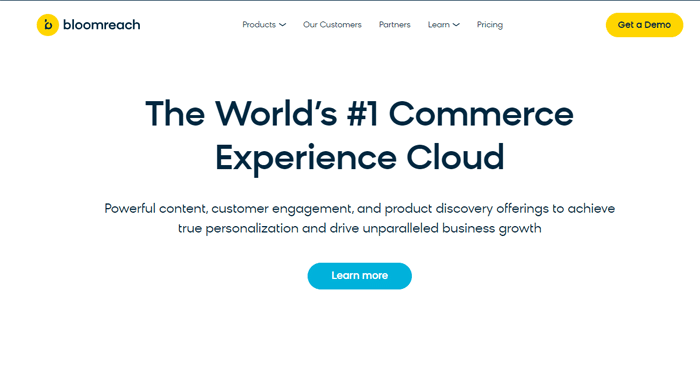 One of the key benefits of Customer data platforms is it provides Artificial Intelligence based functionality. Choosing the software like "Ometria" would also be a great or we would say awesome option. Not only it is customer data but also a splendid marketing platform that enables you to share marketing messages in every customer journey. Here, seamless Integration with e-commerce platforms is also possible which saves time, money, and effort spent. Even if you feel it's quite harder for your business to create a campaign then Ometria is a great help for all size companies for this operation.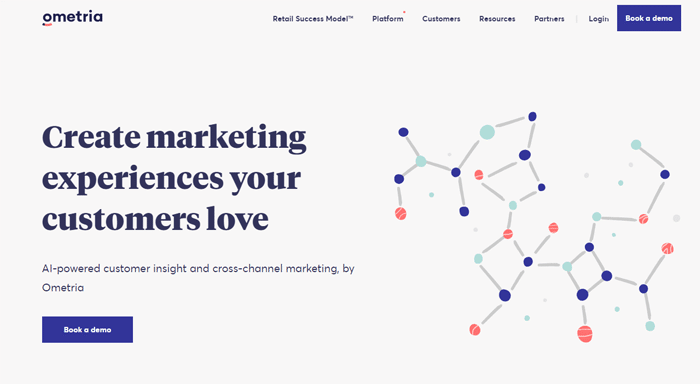 Your priority list to evolve business starts with Customer Retention rate increase and Business revenue. We have got another concrete software that can drive growth faster. We are talking about the software called Insider that has the capability of AI and Machine Learning. Where can it deliver the personalized experience? Adapt it and you can dive into the channels like email, messaging, ad channels, mobile web, etc. Many renowned companies have invested in this software like Toyota, Avon, Nissan, IKEA, and many more. What for the Email Campaign? It gives you ultimate functionality like Brand optimization, Campaign analytics, and Reports and Dashboard.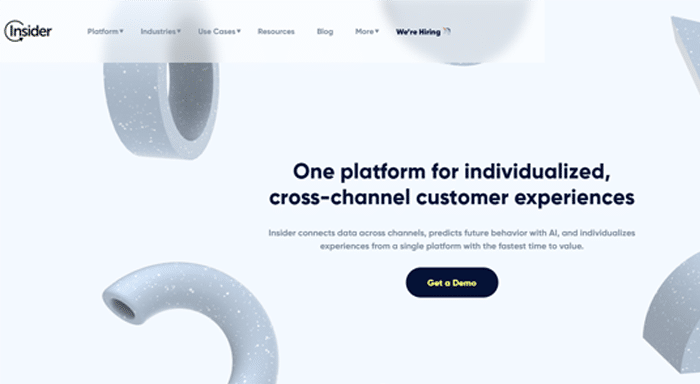 Putting it all together: You don't have the finesse skill to track every touchpoint of your crucial customers. That's okay! Just invest in accurate Customer Data platform software. It alleviates your effort by collecting and managing the vital data from lots of sources. It makes your task of sharing an incomparable experience with customers much easier. We explained above how this technology/software works. There is no point to search for other software now because we have unwrap the most essential software's that gives you the best solution. No choose according to your business demand. Good luck!