If a Business is drowning in the Sea of Marketing platforms then a Google ads campaign may be the answer. A stellar decision by business if ready to put every single dollar on this Marketing platform. Conversion, Leads, and Sales are always at the fingertips of every diverse type of industry. Strive for Ads Campaign of Google to achieve all these effectively.
We believe companies opted for several essential strategies like Search Engine Optimization, popularly known as SEO. But the SEO method takes a long time to give you results (with no guarantees). Pay-per-click advertising is an out-of-the-box solution. Always ready to provide ultimate results to every company. Like other businesses, if your goal is to get Faster ROI then without any shadow of a doubt, prefer Google Ads.
The blog is all about this Marketing platform. We will also unpack the steps to create a Google Ads Campaign. We will start with the basic.
What is Google Ads Campaign?
A holistic pay-per-click system for every business who is looking to advertise in Search Engine Results Pages of tech-giant (Google). Easier for every company to curate a meaningful copy to advertise to get the Target audience. This splendid marketing platform can boost Brand awareness by 80% and 96% of Google's revenue come from Advertising.
Knowing such interesting facts about this platform and still not going for it means you are doing your business a disservice.
"This Advertising platform is originally known as Google Adwords"
Why only Google Adwords? Why not other Advertising platforms?
Maybe you are going to spend each dollar here. It is indispensable for every company to know this "Why to put investment over here". Check out the reasons below-
The first and most significant reason to choose this is "to get Faster ROI". This functionalities-packed platform promises to give faster ROI once the ads are live in SERPs. It gives you more leads and ROI in comparison with other channels like Email or SEO.
To control your Business investment to advertise, this Marketing system is paramount. It will also uncover insights like how much you spend to advertise your brand or services. The benefit is you can adjust your amount according to that.
The third ultimate reason is Tracking Reports. Suppose you are running an ad campaign for SugarCRM services. You can track ad clicks, amount spent, etc swiftly. Pro tip: connect it with the PPC Tools.
One more reason and that is about your Marketing Goals. Like we informed you above about the top key goals such as Brand awareness, Conversion, and the list goes on. Achieve with some brilliant platforms like Ads Campaign of Google. It opens the doors to reach there first.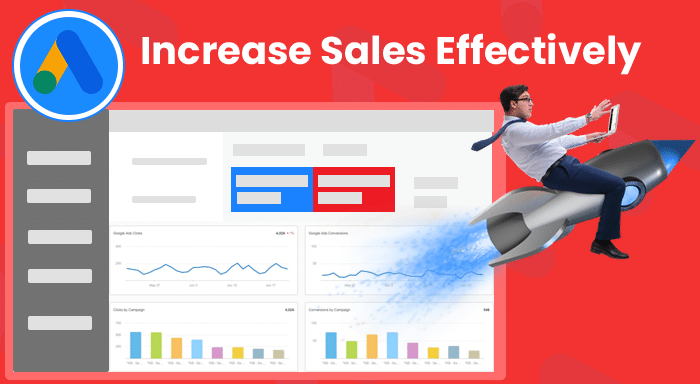 "Work wonder by introducing Google Adwords to your Business"
Spoiler Alert:
90% of consumers believe that this versatile Marketing platform influences their purchasing decision.
Approx 49% of visitors said that they click on the Text ads.
Around 65% of Small and Medium-scale industries have PPC Campaigns.
Only 41% of visitors trust Online Marketing.
How does Google Adwords work?
This platform uses the Pay-Per-Click model. Suppose your Marketing team wants to Target a Keyword called SugarCRM on Google and make a bid on this keyword. Remember one thing: you may be competing with many others on the same keyword. 
According to your budget, you made the maximum bid. It means you are willing to pay for the ad. Like if your bid is $10 then Google will determine the cost per click is $5. And your business will get the ad placement in SERPs. There are 3 most important options for the bids and the names are:
Cost per Click: Known as CPC
Cost per Mille: Known as CPM
Cost per Engagement: Known as CPE
After knowing the amount made for your SugarCRM keyword, the role of Google is to pair it with the assessment of your ad and that is called "Quality score".
What is a Quality score?
A crucial tool for every Google Adwords expert or newbies which tells you about your ad quality comparing it with the competitors. And it is measured between 1-10.
Bear in mind: The higher your Score the better you Rank.
After your bid amount and Quality score, Google will position your ad on SERPs. When the audience clicks on your ad, your business needs to pay for that click.
How to Create a Google Ads Campaign?
This blog is for all the naive users who are looking to advertise their business brand via Google advertising. Readout each steps given below-
First step: Make Google Ads Account
Ready to Market like crazy on Google? Your first step is to make a Google Ads account first. Visit the website and sign-up. They will ask several important questions, so answer them wisely with correct information about your Business and all. Even Banking credentials they need during the set-up process.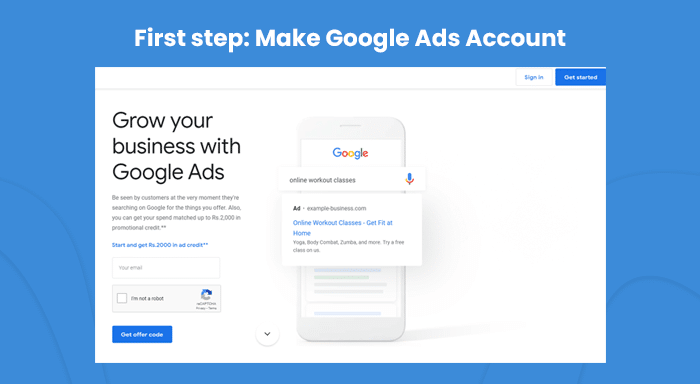 Second step: Choose your Campaign Goal
After making your business account, Google will uncover three options for your Campaign goals. Those were: Get more Calls, Get more Website sales and Sign-up, and Get more visits to your Physical Location. Select the one and it will be entailed in your Ads Campaign, so choose wisely.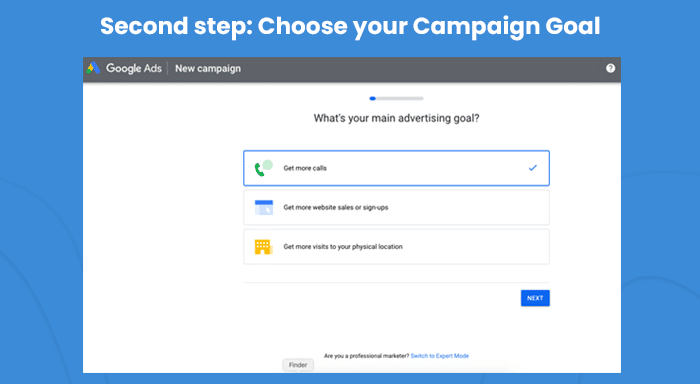 Third step: Fill in "Describe your Business" information
Google will then put you to the next section where you need to write your business name and website. Means fill out each detail in the "Describe your Business" section. Necessary? Yes, of course, because it aids the audience to know what exactly your business is all about. Also, helps in ad creation too.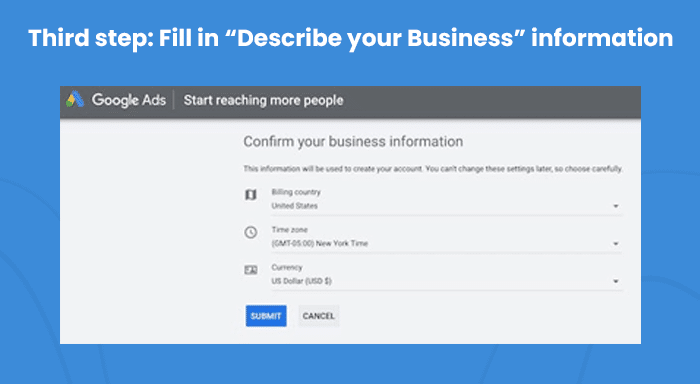 Fourth step: User to Designate the Geographical area
This is awesome for the local businesses. In this step, designate the area where you want your Business ad to appear. Catch the end number of the audience who are near to you. This helps in increasing your sales more.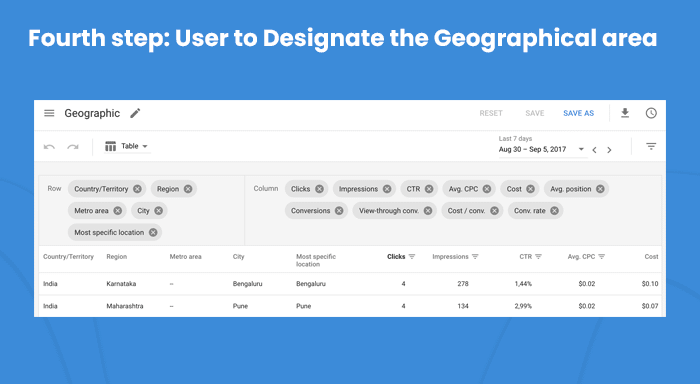 Fifth step: Search and set the Right Keyword
The next step is to use the right Keyword of what your business is all about. You are not alone in the race of winning the heart of the audience. Maybe you get plenty of competitors who use a similar keyword with the PPC strategy. Give Marketers a proper time to which keywords to use to get a valuable audience for Business growth.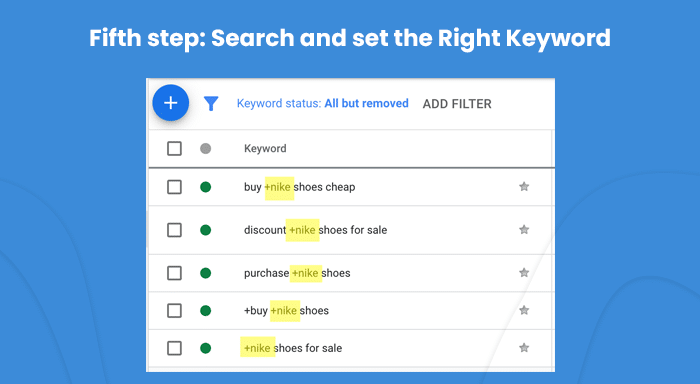 Sixth step: Curate your Business Ad
Now it's time to use some creativity to write your business ad. You are spending an amount that means you want the most promising prospect to turn them into regular customers. Make a compelling copy that is attractive and outstanding. Here you will watch out for three considerations: Headline, Description, and Destination URL. Fill out everything properly as every dollar is valuable.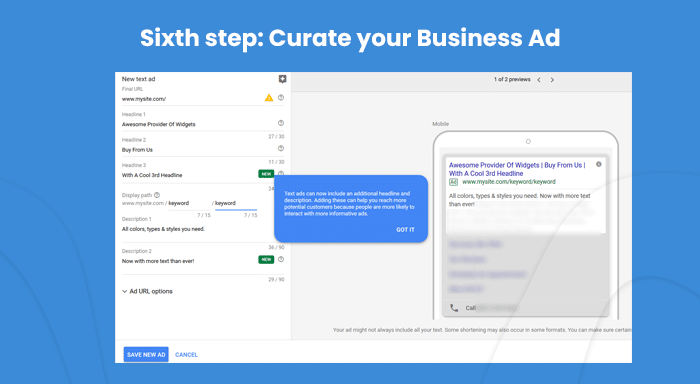 Seventh step: Add your amount in "Ad Budget"
Another vital step to fulfill. It's time to fill the pocket of Google Adwords with some amount according to your choice. Users can set the bid of clicks here because Google wants a user to get full control over there. Once your budget is spent the ad will disappear.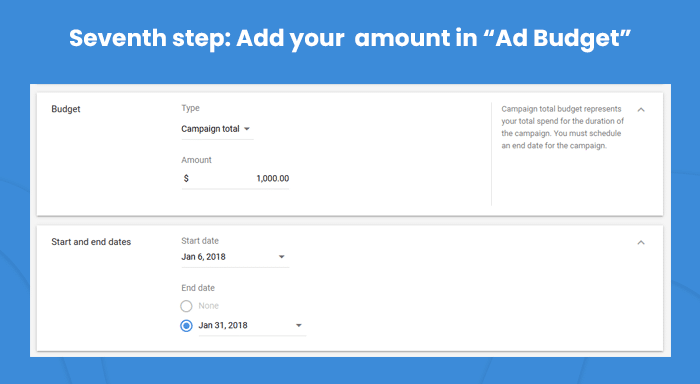 Eight step: Write down everything on "Budget and Review" section
After you complete the above steps, let's pounce into the "Budget and Review" section. The section will unhide the options: Your Daily budget, Your Monthly budget, The impression you'll get for that budget, The clicks you should expect based on the impressions, and the Location you are Targeting. Check out everything properly.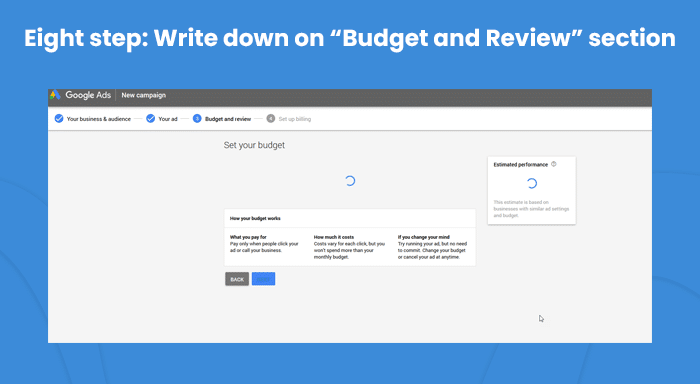 Ninth step: Setup the Billing Process
It is imperative to provide information about the Payment process. Give every key information that Google wants from you because this tech-giant will charge per click from your side. Always give accurate information.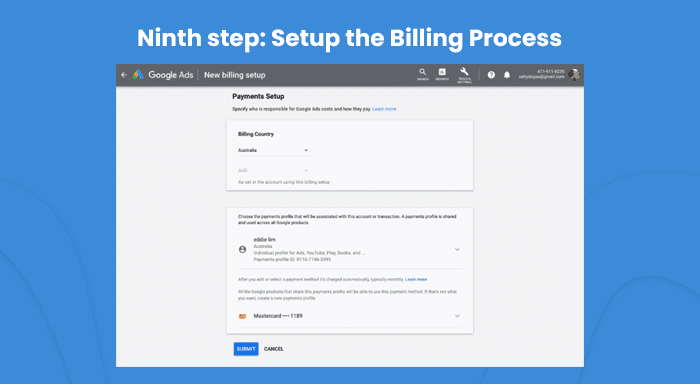 Tenth step: Click on Submit
The last final step is to hit the Submit button. Your first compelling business ad will run. Well, campaigns in Google will definitely give you sublime results only if implemented correctly. Follow these easiest steps to run your Ad in SERPs.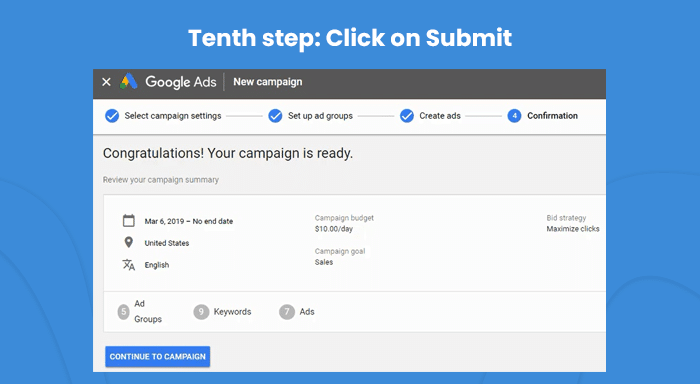 How many Types of Google Ads are there to know?
Every type of tech-giant ad is ruling as everyone wants a piece of the pie. You are at the right place to know how many ads are there.
This is the first campaign that shows text ads on the Search Engine results page. This campaign is a relevant choice for most businesses. If you want to pay to get Number 1 ranking on Google then strive for this campaign first. Such a campaign helps your ads to get visible on Google Shopping too.
There is a need for Google's vast website partners. Introducing Display Campaign which makes your ads visible on other websites all over the internet. Google will even enable you to display your compelling ad on the Gmail platform too. Research says Google is partnered with two million websites. A big deal for businesses of all sizes to endeavor for a Display campaign.
Like if you have some great SuiteCRM Plugins (just an example) then promote them in a more visual way. Introducing Shopping Campaign for this to alleviate this task. Your products will get visible on Google Shopping too. Another awesome benefit for your Business growth! And if you have some better physical products then don't fret as Google Shopping will give you qualified leads.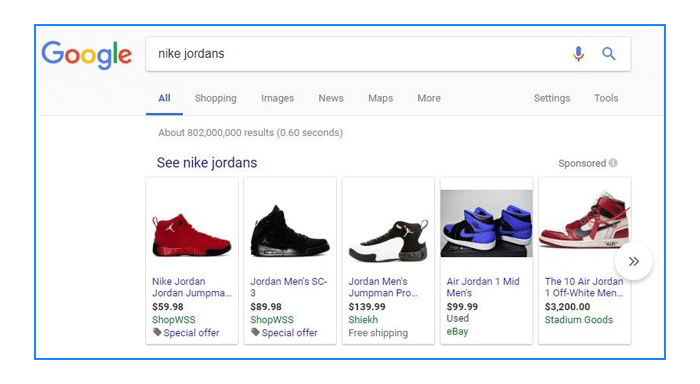 Businesses scrutinize ads on platforms like YouTube whenever they watch any video. So, this ad called Video Campaign is prevalent but vital. You can see the ads in the form of pre-rolls on YouTube. If your Marketing team has some special ideas on Video ads then go for this campaign type because Google will offer endless options to you.
Can you Integrate Google Analytics with this Marketing platform?
People always crave to know how much traffic they are getting on the website every day, about the conversions, and all. It's the ultimate decision if you set up Google Analytics with your website. A complete all-in-one platform to provide you actionable insights about your website health. Every unique metric you can check here.
Well, there are enormous Benefits of Google Analytics. So, links with Google Adwords make your tracking task between channel and Campaign hassle-free. Everything in one place without switching on different tabs saves a Significant amount of time.
Sync this Google Advertising platform with CRM software
CRM (Customer Relationship Management) software is at the heart of every diverse type of industry. To Track and Analyze your customer information, CRM is an underrated system to take your organization to the next level. The benefits of CRM system always increase the chance to keep your customers for lifelong and smoothen your relationship with them. How about syncing this software with Google Ads platform?
Syncing these powerful platforms enable your company to know which ad campaign is performing very well or which one fails. After the complete overview, your business Marketing team can continue marketing according to that. Also, users can provide specific offers. One of the biggest Advantages for every company!
Concluding Note: Google Ads Campaign is the bedrock of every Marketing Business success. Several Paid Marketing strategies are there to outgrow your business, but nothing can stop this Google advertising platform to stay on the top. Companies generally strive for unpaid methods, but if you put your investment here then this platform presents superlative benefits. We unlock every detail of the Ad campaign in Google above. Now it's time to see conversion and revenue soar. Good Luck!