As there are 321 million people involved in digital marketing businesses then how you will encourage your potential customers to choose one of yours? Here is the best way "Customer experience" or CX, which is a strategy that will keep your current customers engaged in making purchases from your store. Also, will compel your website's observer to join you. It'll not only build the foundation of loyalty in current customers and improves your customer retention rate but also create new relations with potential customers.
By keeping your current customers satisfied your can spread out your label globally because of your current customers' recommendations and references. Just by using the CX, you can grab the public attention without doing much effort. This is how you can easily broadcast your brand extensively and entirely. Moreover, the CX approach generates a positive nature in your customer that they will not go to any other of your competitors by leaving you. Let's take an in-depth and precise perception of Customer Experience.
What is Customer Experience?
The "Customer Experience" also known as CX refers to the thinking or notion of your brands in your current customer's minds that they received throughout the entire journey. In another word, it is an interaction or experience that your customers get from your products & services in between their customer journeys with your brands. The customer experience is treated as an integral part of your customer Relationship Management. It is just because it took the whole responsibility of your customers like how long they will prefer you.
The healthy experience of your customers with your brands will compel them to become repetitive and loyal customers of your store. 74% of the senior official considers that a good customers experience impact the willingness of your customers to be ideal and endless customer. There are two aspects that help to generate a healthy customer experience, the first is "Customer" and the other is "Brand".
How Significant the Customer Experience is?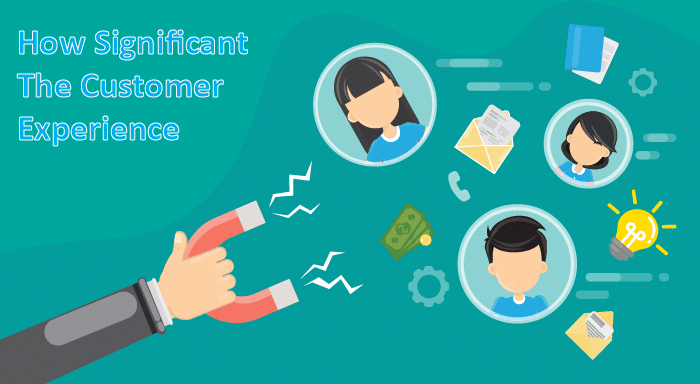 From the viewpoint of present circumstances, customers have the authority to run a business instead of the sellers. Since customers have a plethora of options to grab the one from their top brand selection based on their requirements. So, here you may convince the customers to make the purchase from your store only if the customer has been treated well before or has been recommended by their someone. And both the above-mentioned condition would be possible to execute if you will use the customer experience strategy.
It is unquestionably sure that the needs of the customers get change continually and because of this multiple reasons arise. 64% of the customers wish that their company can respond to them faster to meet their changing needs. And 88% of executives think that their customers are getting change much faster than their business is developing. So, here this product-centric approach can handle all issues because of its changing experience.
How can Customer Experience be Effective for an Organization?
Most of the Customer Experience exists in a silo that may lead to competitive differentiation. So be sure that you are following the best CX practices that can deliver personalized and pleasing interaction at each customer touchpoint. Smooth or pleasing interactions can add a cumulative effect on customers' overall perception or impression. Moreover, your customer experience should be cross-functional since being it you can simply drive the highest ROI.
Who is Responsible for a Good or Bad Customer Experience?
As a good CX can improve the productivity of your organization or make your business colossal, also a bad CX can ruin your business & lost numerous customers. So, here you will understand who will be responsible for the entire growth of your corporation or its shrinking reason.
Marketing Process: You need to focus on providing the product with a trial, discount, or in a convincing way. Also, concentrate on offering the exact as people want.
Brand: Make sure the setup process of your product is easy to understand or use. Furthermore, it must be working in an effortless or demanding way.
Development procedure: Develop the product based on market research.
CEO: The CEO must break the three familiar barriers that may threaten the success of Customer experience Action, Access, or Authority.
Functioning: Try to provide efficient production which may hit the growth limit.
Information Technology: Focus on enabling automatic products at a greater scale.
How to Calculate the Customer Experience?
The customer experience has the power to hold on to your customers for a long period or endlessly so, if you will calculate your customer experience then you can analyze the entire progress of your business. Let's follow some steps and get to know the calculating formula of customer experience.
Explore the satisfactory survey result of customer experience
By analyzing the result of the customers' satisfied surveys you will get to know how essential it can be for your business's growth. For the calculating of customer experience, you must review the top 10 metrics that help you for measuring the CX from which the feasible is NPS. Net Promoter Score gives deep info on the customer journey like at which point you're catering the best & from which pain points customers are still suffering.
Find out the reasons and churn rate of your customers
You need to find out whether your customers' churn rate is increasing or decreasing within a specific period of time. By doing this you can evaluate the growth of your business as well as find out the solution for further prevention.
Ask customers to add accessory functionality to your brands
If you want to add your customers' desiring features to your brands or make them more productive then you must create a forum for your customers. Using this your customer can let you know what kind of functionalities they want to add or want to get from your products. Be sure that you are not implementing all the suggestions that your customers are recommending to you instead you may execute the valuable ones from them.
Reviews customer support tickets
To fulfilling your measuring term of customer experience you need to analyze the customers support ticket of your ticket rep. Once you have inspected the result of your ticket rep then you can reduce their number while providing your best services and experience to your customer. This will also save you from paying a high amount to your ticket rep.
10 Metrics to Calculate the Customer Experience
In a nutshell, we have described the top 10 metrics for calculating customer experience.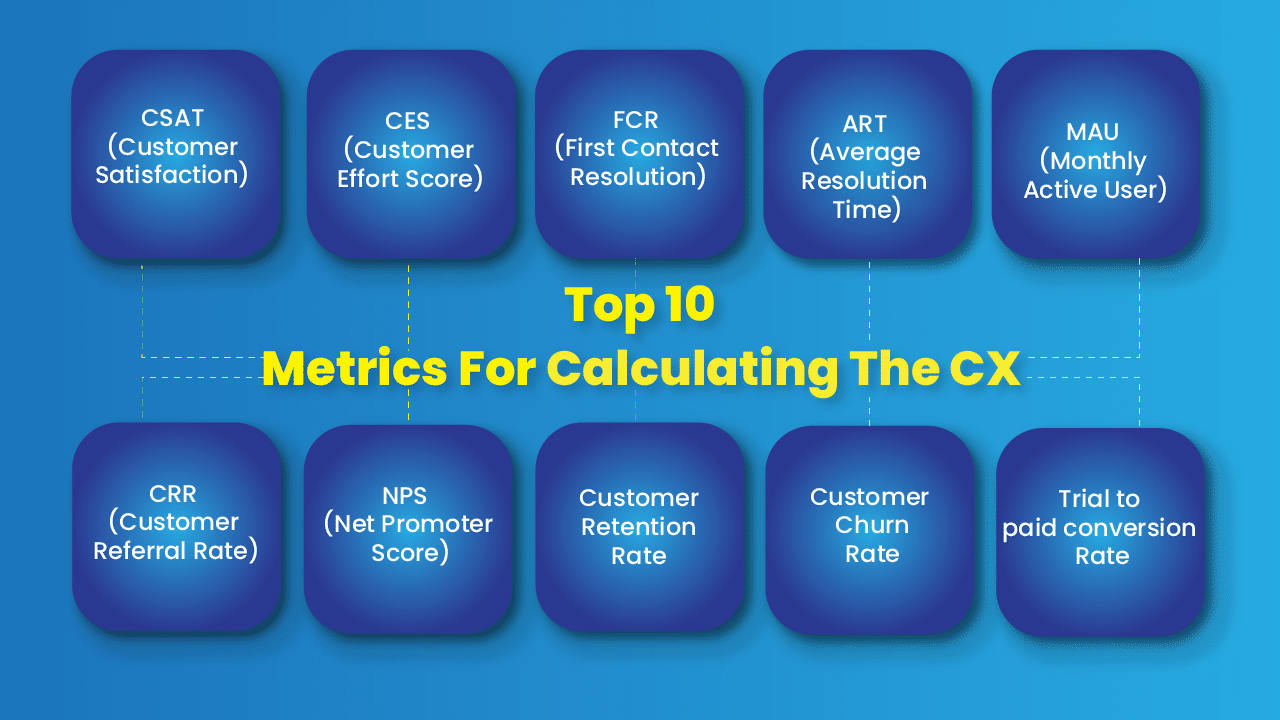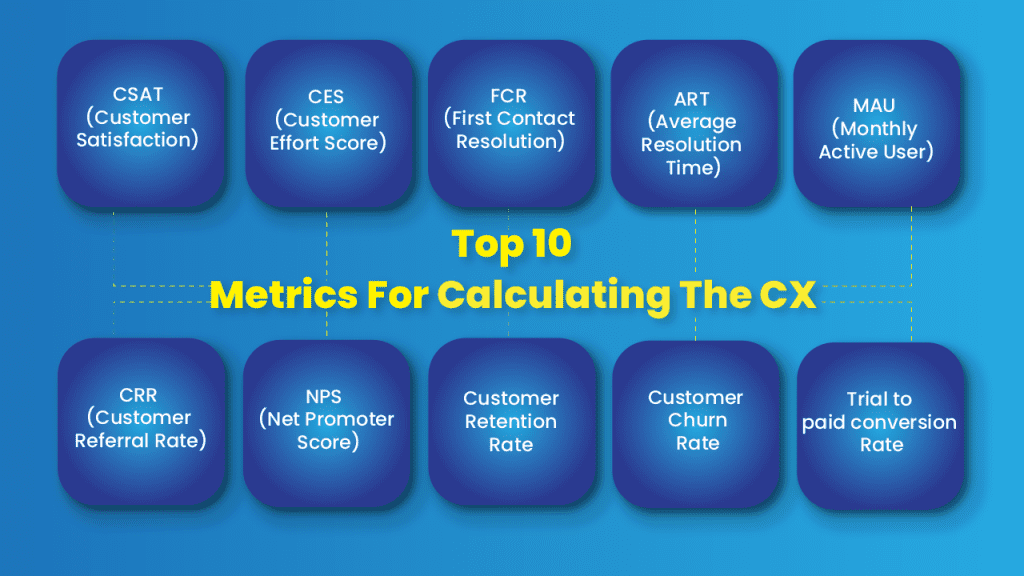 CSAT (Customer Satisfaction)
Customer Satisfaction or CSAT will let you how accepting the customer is of your services or products. Like which feature of your product the customer is satisfied with or which one they want to modify or completely remove. Customer satisfaction will help you to know the exact requirement of your customers by including a review of your product like 5 stars, 4 stars, etc.
CES (Customer Effort Score)
The more effortless your customer experience would the more chance there that your customer makes the purchase again from you. It has been studied that 94% of the customer have put less effort into their customer experience and made high sales. So, Customer Effective Score or CES will let you know at which point the CX is smooth or where it is frictive.
After finding the result of the CES metric you can make your services easily usable at the required points.
FCR (First Contact Resolution)
The First Contact Resolution or First Call Resolution is a metric used to measure the customers' inquiries or issues solved in the first instance. It refers to the percentage of customers' problems that have been solved in the first interaction with the agent or representative of the business.
ART (Average Resolution Time)
The Average Resolution Time is the time that your servicing team takes to solve the issue of your customers on average. No customer wants to carry their issues for long so, the ART should be as less as possible. The Average Resolution Time allows you to know the ability or the proficiency of your supporting team.
MAU (Monthly Active User)
The Monthly Active User allows you to know the number of your active customers who are immensely engaged with your brands. Not only this, but you can also use the DAU (Daily Active User) or WAU (Weekly Active User) to know the daily or weekly engagement respectively.
The Monthly Active User will make your focus more visible or productive. For increasing your monthly engagement you can use the simple form process in your project. By doing this your customer will find the entering process so simple and show more interest in filling them.
CRR (Customer Referral Rate)
At the time of calculating the customer experience, you see that NEP is the number of people or customers who say that they will refer you to their colleague or friend. On the other hand, The CRR or Customer Referral Rate is the number or percentage of customers who actually refer their colleagues or friends.
NPS (Net Promoter Score)
The Net promoter score refers to the customer who gives you the references of their friend, colleague, etc. Here the person who gives you the reference is divided into three categories Detractor, Neutral, or Promoter. The customer who gives you 9 – 10 is counted as a promoter, 7 – 8 is neutral, and those who give 1 – 6 references are detractors. You can calculate the number of Net promoter Scores as % promoter – % Detractor = NPS.
Customer Retention Rate
The customer retention rate refers to the percentage of your customer who is continuing to pay for your products and use your service over a period of time. The highest retention rate indicates that your customer still values your brand and are engaging with your services. And the retention rate will allow you to know how well the customer experience you are providing to your customers
Customer Churn Rate
The customer churn rate tells just the opposite of the customer retention rate like how many customers left your business or not paying anymore. By reviewing the increasing or decreasing churn rate of your customers you can easily analyze the growth of your business.
You can simply calculate your customer churn rate by subtracting the number of end customers at that period from the number of beginning customers at that period and dividing it by the total number of starting customers.
Trial to Paid Conversion Rate
Using the Trial to paid conversion rate you can view how many people have been turned from trial users to paying or endless customers. For making your Trial To Paid Conversion Rate effective you can add customers' desiring features to your product.
Conclusion
The customer experience is the experience that a customer receives from your product and services during their entire customer journey. The customer may get a good or bad customer experience from your brand that will influence your business or overall goodwill. In this article, you will take a deep knowledge of (customer experience) CX, and its importance. Also, will know how it can impact your company and its measuring process. We are optimistic that in this article you will get adequate knowledge of customer experience.