In the past, companies had no idea how to find business information of key people. They had nothing except stalking on Social Media or consulting Mutual friends. It was time-consuming. But with the introduction of the RocketReach platform, everything is No-Brainer for the firms now. This efficient tool can turn the most frustrating part into the simplest. This blog will let you know the significance of this tool. Plus you must pay heed to RocketReach alternatives here.
What is RocketReach?
The Most fascinating and powerful tool for businesses which allow you to find Phone numbers, Social links, and Email addresses. Leveraging this lets you know the information of any company you are looking for. Thus, closing the deal is not so Daedalian task as you have accurate information in your hand.
It provides the Functionality such as-
Lead Builder
Data Cleaning
Data Segmentation
Integration with CRM software
Spoiler Alert: This Platform can sync with Marketing Automation software too
Your Workflow will never go in the right direction when you don't have such vital tools. One of our clients faced this situation. His firm took more than weeks to get the key people accurate information to close the deal. There was no seamless process and sometimes the company failed to get leads. Our client's Sales team always curates a long list to deal with but few of them respond. Why not others? Not getting the accurate information to connect with those might be the reason they didn't reply.
The firm discussed and we informed them about the RocketReach platform. This Tool aids the company now to generate Quality Leads. The departments like Sales, Marketing, etc are now finding it cinch to connect with every professional. Workflow is now moving in the right direction. Nothing is complicated now.
Current Rocket Reach Pricing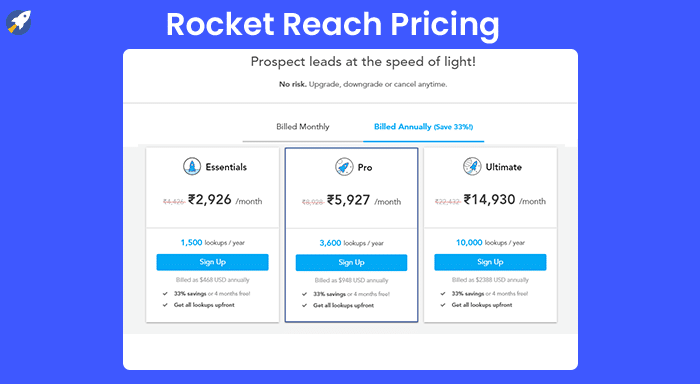 Is your company craving for using more other tools like this? Do you find this platform expensive for your small industry? Lack of features can be the reason too. So, countless Rocketreach competitors are available. All are best-of-breed and intuitive.
Latest Rocketreach competitors with some Greatest functionalities
Before going to strive for any tool, make sure you have a proper understanding of its features including the Pricing plan. Let's get started now-
Millions of companies are there and you are searching for some businesses related to your firm. So, to know the email address and multiple information regarding business, findthat.email is the best tool to use. Your search for the Rocket reach competitor comes to an end. Find out the emails from a list of Names, Domain, and Companies. It would be very helpful, or interesting to know the social networks of the leads. Seek details of Facebook, Twitter, etc. To boost up your sales and for Content Marketing motive, this tool is valuable to outgrow your firm. The Pricing starts from $29/ per month.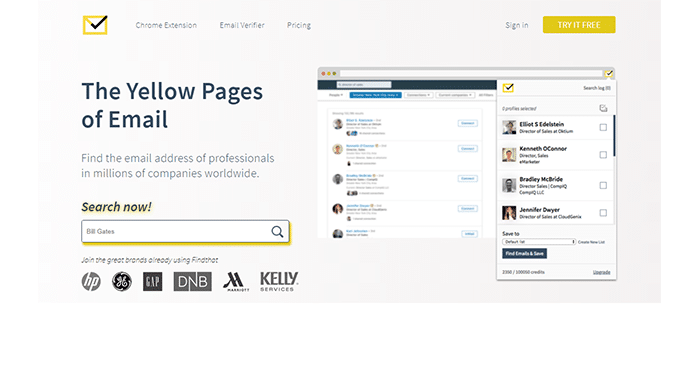 If we got professional Marketers here who are paying attention then this tool is for you. Introducing Email.Echelon, a simple one to find a work email address to contact. Marketers don't need to go anywhere to flash team products now. Let Email.Echelon handle this to alleviate your efforts. This also means that Marketing team productivity will improve. How does its core functionalities enrich your experience? Social information at your fingertips, watch out User-friendly interface, user can add members, and the list goes on. Businesses can access from anywhere or anytime.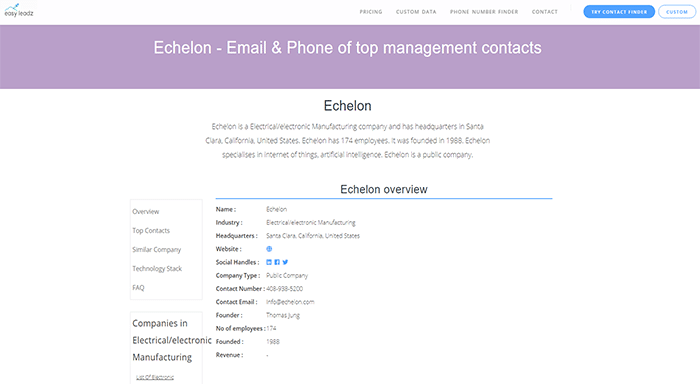 One more Powerful B2B tool to fulfill all your needs. Introducing FindThatLead Tool for your Small sectors where you will get a real-time email in one go. There is no complicated and long process to get emails to contact. We unlocked this tool in this blog because it is going to offer unrivaled functionalities such as Lead Manager, Lead Search, Domain Search, CSV Upload and Prospector, and many more. In addition, the tool is offering a Dashboard which means managing every single task is now going to turn into an easier one. Plus you can add your Settings here. Moreover, if any of you want to validate email addresses, endeavor for the Email Verifier Function. The Pricing plans start with $49/ billed monthly.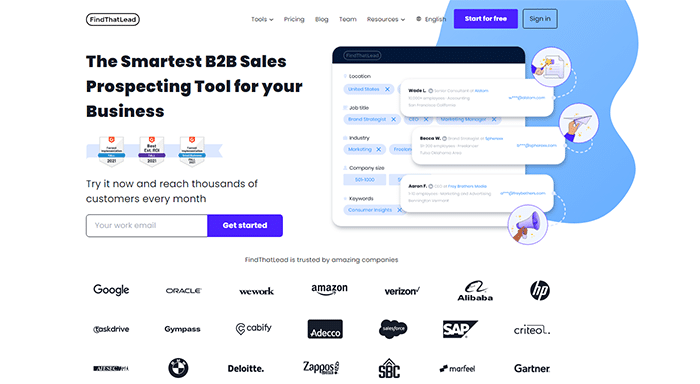 Find and Connect with the right lead without putting in more manual effort. Lusha is another ultimate tool for your Small scale business that is user-friendly and affordable. Without any doubt, you get every professional contact information to connect faster and close your sales deal. Connect with the critical prospects via social networks, SalesForce software, etc. Every user while using this tool can seek up-to-date information about the prospects. Research says the Lusha tool lets you Integrate with any platform. Much easier for businesses to handle tasks without switching different tabs at the same time. The Pricing here begins at $99/per month.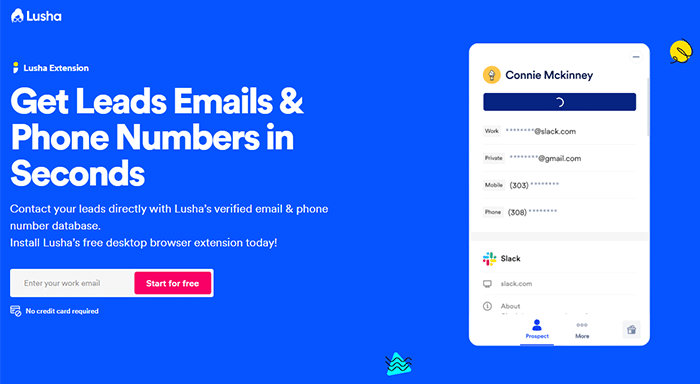 We have one more tool that doesn't spin out of control. Easy for everyone to get emails from a LinkedIn Sales Navigator profile or search. We are talking about the LeadGibbon platform that is advanced enough to provide a delightful experience. Marketers who are looking to improve productivity have landed in the right place. This tool offers an end number of functionalities like a Dashboard for managing, sending emails to leads, and more. Send email from here in real-time to save time and money. For creating a verified email address there is no complicated method. With one click, it is possible to do so. Pricing starts from $49/ per month.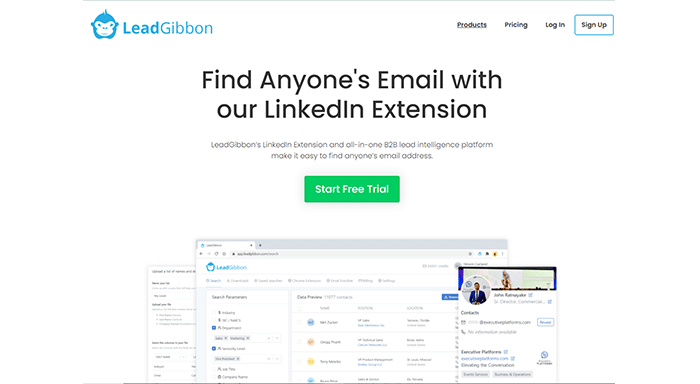 It's so easy to connect with those who matter for your company. You will not get any wrong deals to waste countless hours on them. You need to start your "Finding emails" journey from the Hunter tool. A Rich and Renowned tool for businesses to find emails in seconds and start dealing with those people. All you have to do is just put the domain link over there and it will uncover the email addresses and other crucial details for your firm. An Email verifier function is there to verify whether you got the right email or not. More than 3,000,000 professionals put their hands on the Hunter tool first. The Hunter tool pricing starts from $49/ per month.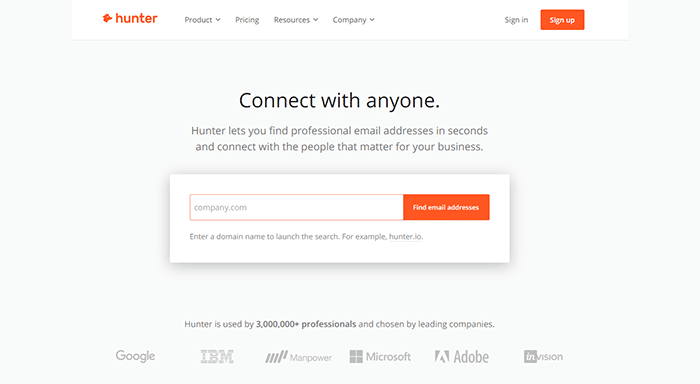 Syncing RocketReach with SuiteCRM software
To forge a strong bond with clients, everyone adapts SuiteCRM software. It would be awesome if you invest in Great Products like SuiteCRM RocketReach Integration for your CRM business. Syncing both help users to develop contacts and accounts directly in SuiteCRM. It will save your time. Because managing customers and getting such information at a single platform improves work productivity.
What are its salient Features to know?
If your CRM software is a King then Plugins are its soldiers. The Extension we are highlighting here is superlative for your firm. Let's know its functionalities together-
In the search layout of this Plugin, it will uncover entire emails and valid phone numbers.
Another great functionality is getting on the LinkedIn and Facebook profiles of the prospects. You can see this in the search result.
The prospect account will be created with the name of his/her company. Plus records will be created in the Contacts with all vital details.
You are free to choose any module for creating records of the prospects in SuiteCRM.
Ultimately, a user can type any keyword related to his/her search. The add-on will unhide all the people regarding that keyword. You can select according to that.
This extension lets you search all the employees with one click. If you are interested in dealing with only the decision-maker of a company then this extension already has a dedicated button for that task.
Start using a Product with a 3-Day Risk-Free Trial. The current cost of this SuiteCRM Plugin is $399.00.
Conclusion
Small industries from now onwards can drive more Revenue and Sale. Credit to tools like RocketReach for giving you unprecedented functionalities. If this tool's Pricing plans and lack of features are not enticing you all then you can go for its competitors in the market. Every tool is loaded with magnetic features to strengthen your business especially the Sales and Marketing team. Now the workflow of your firm goes smoothly just like the way you expected in the past. Use any tool according to your needs and improve Business Productivity. Good Luck!