The Up-selling Technique is be-all and end-all for every growing Business. If not executing this technique then it means you are slaying your Company.
Customer: I am interested in buying your SugarCRM Plugins for my CRM (Customer Relationship Management) Business.
Me: Are you interested in purchasing the Lite versions of all SugarCRM Products?
Customers: Yes, because all are affordable for my business.
Me: Yes, they are good. But if you pour some more dollars on Premium versions of SugarCRM, it gives you some extra ultimate functions. Just one-time investment here and you will get Phenomenal functionalities to use in CRM software.
Customer: Well, if I am getting highly-advanced benefits while investing in Premium versions then I will go for it.
Me: Yes sir! Plus we can offer you a Great Discount on that.
Customer: Thank You for all this!!
Have you understood the above conversation between our Business and a Customer? This is what the Upsell is. Let's shed some light on Up-selling Definition now and get more information to know the key role of it to improve Profit figure.
What is Up-selling?
Put simply, one of the Top-most Sale techniques for all businesses where you invite your customer to shop expensive or upgrade items from you. Here you coax a customer to buy the premium add-on from your business so it simply helps in improving Profit figures. It might be daunting to induce a customer to buy but if your plan executes properly then nothing is Greater than this strategy.
We can unlock plenty of Up-selling examples here. We have a great one right now.
Suppose a customer enters your Mobile Shop and asks you to show some Smartphones that have good camera quality. He even shares his budget range with you. Now you have the critical information about the customer that he wants. You know he loves photography from smartphones.
You suggest the person buy the smartphone "XYZ" because it has a high-end camera and more storage space. But it is a bit expensive. You should now induce your customer to buy because the smartphone "XYZ" has next-level functions. Moreover, you can give him a great Discount offer. Eventually the customer purchases from you.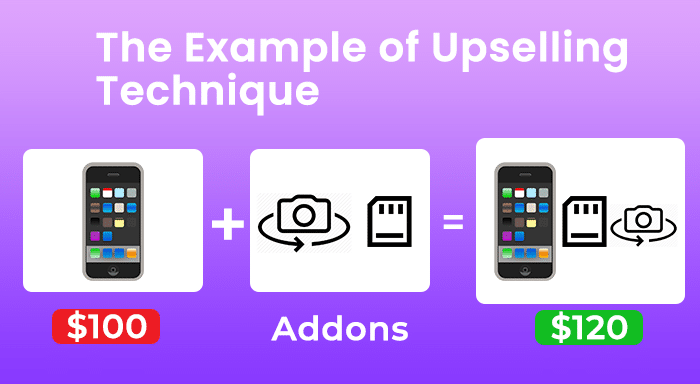 This is what upsell strategy is to sell them the Premium version addon and yield high revenue from the customer. Simple and Most Important strategy to evolve a company in the market.
This Sale Technique is ready to curate a steady relationship between business and customers. Selling an expensive one to your customer means the customer will get unrivaled benefits. It makes the customer feel like it's a great deal because they are seeking outstanding advantages. Additionally, businesses will get a good amount of profit. So, this makes a great relationship between both.
While offering them splendid products and services, customers will come back once again. It only depends on the products and services you are selling to them. By adding value to your customer via upsell, they will reach you first rather than going to shop from someone else. Sales goals will increase, Profit will increase and Business will grow.
If your mission is to sell all key products then make sure to pay closer attention to existing customers first with this strategy. Upsell techniques are exceptional so it should execute more on existing customers because 60-70% of existing customers purchase easily. New acquired lead purchase statistics are between 5-20% from a business.
The Most Important Statistics to know about this Technique
Businesses can gain Profit by 10-30% on average from this Sale technique.
Approximately 80% of Revenue comes from this Upsell.
This Strategy is 20 Times more effective than Cross-selling strategy.
This Sale strategy is 60% more affordable than other methods.
People always crave to know which technique of strategy they should execute for their business development. Even we saw many posts of people asking where to keep their eyeballs: cross-selling or up-selling. After knowing the above statistics, we guess it is crystal clear to everybody here.
Identifying the Customer Need is important Technique
Have you done this: selling anything to anyone in your business? Yes? You are at the right place to improve yourself. This selling anything to any customer is the worst way to improve business goals. Your goal should be to understand your existing customer needs. Suppose if they need proper guidance of installing a product then make sure to sell them the right guide rather than introducing the other services. Sell what customers need to improve sales.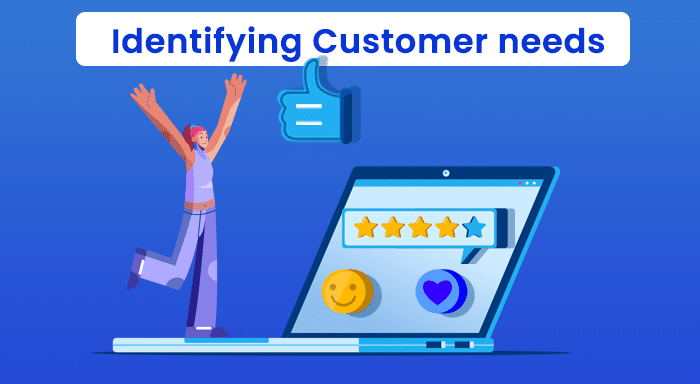 For this herculean task, nothing is Best-of-breed than CRM software. A world-class system for all businesses to scale worldwide. Identify the needs from this system and make a list properly of all customers. Use your upsell method here and share what's best for them. This indicates you are moving forward to make a stronger relationship with them.
Discount Discount Discount! Another Astonishing Strategy
Think of yourself as a Customer. Whenever we read the word "Discount" we move straight to that business to buy. We feel like this is the only way to get what we want at an affordable rate. Many avoid things that are expensive for them. They prefer your competitors and purchase it from them. This means you lose customers and losing them is irksome.
We are not saying to sell them FREE of cost, but a reasonable discount is an awesome job. Customers will definitely shop from your company. Give coupon codes to them, One-time discounts, etc to win their heart. This is one of the most crucial Up-selling strategies. Hope you will not miss it.
Induce Customers by sharing some Real-Examples
In this competitive world of business, everyone looks for a vigorous strategy to fetch customers. So, if you are the one who is in the same boat then we have a great idea for you. To sell your expensive or Premium version add-on, share Real-life examples with your customers. Will it work?
A few months ago, one of our clients started his CRM business and is looking for SuiteCRM Plugins. We uncovered information with him about how the products were life-saving for our customers. Also, our team shared how these plugins solved the problem of our existing customers. He was convinced so easily that he purchased all our products for his CRM software. The power of sharing Real-life examples is out-of-the-box. This Optimal technique of Up-selling should be followed by every firm today.
Not Nurturing After Selling? You are on a Wrong Track
Well, what most businesses do: convincing the customer to shop and if they purchase they think their job is over. This is the biggest mistake that tons of businesses are making in the market. If you don't want to do this and need a solution for that then we will help you.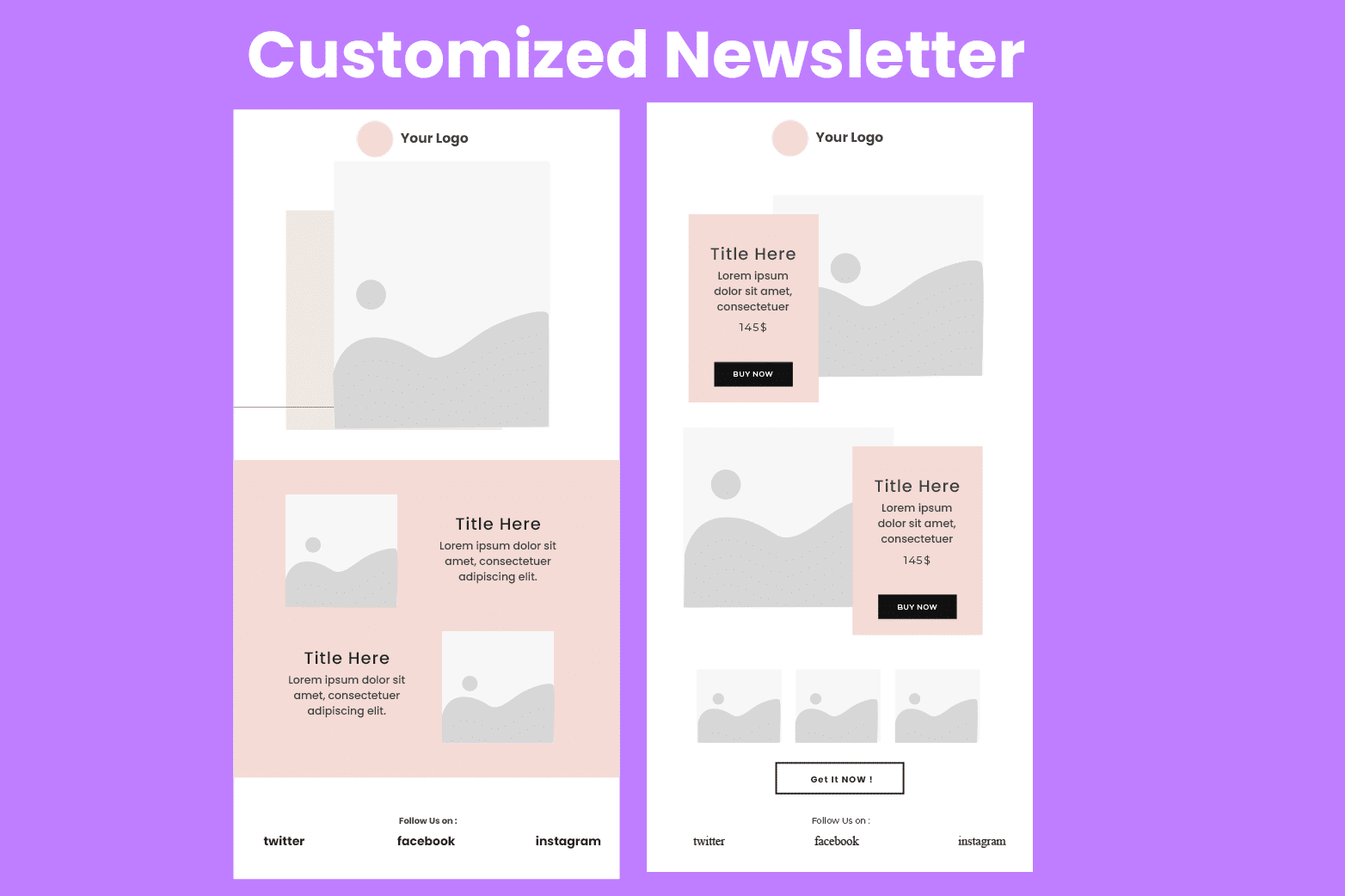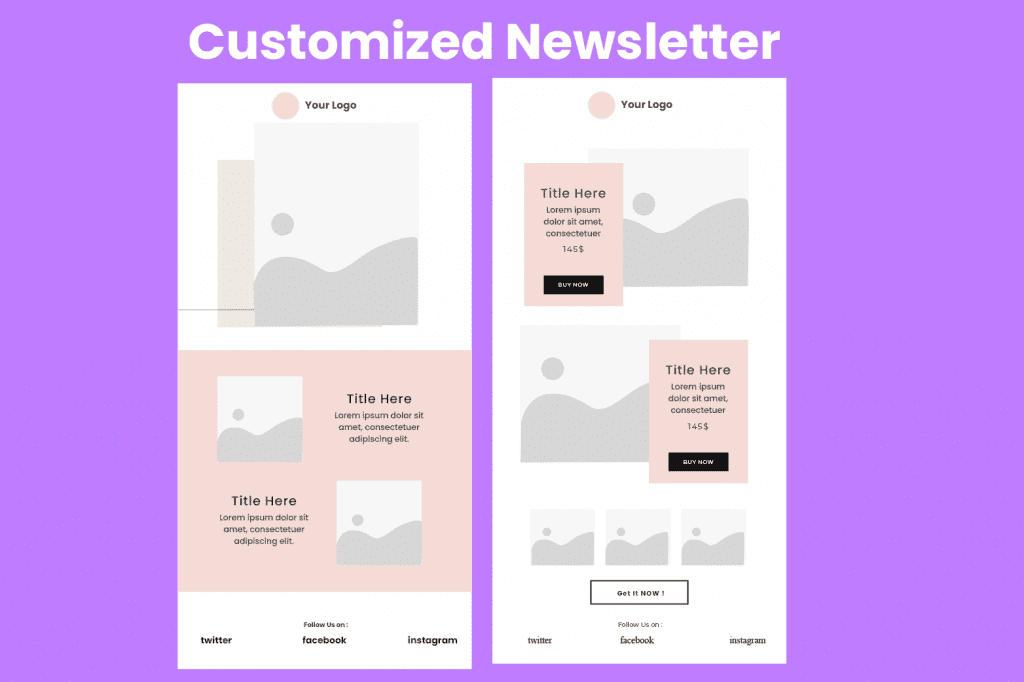 If you think that it's time to share the Premium or extra-advanced add-on or services, share an intuitive and powerful Newsletter with them. Mention all the information so that customers will get to know what they currently have and what they can get more if they buy. Uncover the details of Products and Discounts for them. A great idea to fetch valuable customers again. In short, nurturing the customer after the sale is imperative. Bonus: a normal phone call is also a relevant idea.
Customer is facing an issue with your old product? Solve it first
We have one more critical Upselling technique that is prevalent these days. Firms are always in a hurry to sell their services/products worldwide. It is good as they think of improving profit figures, but who is going to help customers if they are facing any issue in your older products. Do you think selling them is more necessary than solving their issues?
No! Selling should be the second method on your priority list. First, resolve the entire issue properly the customer is facing. As we already told you "Customer is a Driver of your Business". Show them a higher version later on after resolving their entire issues. This is also a marvelous way of making an everlasting relationship with them. Go for it!
Bonus: Adding "Recommendation" options and giving "FREE Shipping" are other next-level techniques of upselling. To drive more revenue, make sure these strategies are at your fingertips. The Strategies we present have more sway than other tactics.
Putting it All together: Every Business is altering today by entailing Up-selling techniques. They believe the only way they can yield revenue and improve sales is through this strategy. But the most amazing fact is it is not just to give you a large amount but also superior enough to make long-lasting relationships with the customer. This technique of Sales is tried and tested and will never fail for any firm. What's on your mind? Ready to plunge into this strategy? Good Luck!