Artificial Intelligence Assistants are enhancing day by day and becoming an essential need of our standard of living. The emergence of Voice Assistants has been noticed deeply in 2014 and now 72% of people consider them as part of their family.
The assistants of Artificial Intelligence technology are increasing continuously and have become a part of each and every activity like watching movies, having fun, news, and music. Additionally, voice assistants are involved in watching the sport, doing the study, and podcasts, and does perform all other tasks in real-time.
What is Voice Assistant?
The Artificial Intelligence Assistant or Voice Assistant is a software program that depends on NLP (Natural Language Processing) technologies. And the NLP technology acts on the voice or text of the user. As momentary, all the best voice assistants or AI assistants follow the voice, text, or command of their users through NLP technology.
All voice assistants can function just like human being means reading books, taking dictation, making calls, aloud emails, scheduling meetings, & remind the user of forthcoming events. Most of the assistants are cloud-based working which means you're free to operate them at any location just by using an internet connection for this purpose.
What Are The 5 Best Voice Assistants Services?
Here you will learn about the 5 best voice assistants and their features. Furthermore, you will get to know the percentage of their users. So, without getting late grab the best voice assistant based on your requirement and pocket availability and take that in use.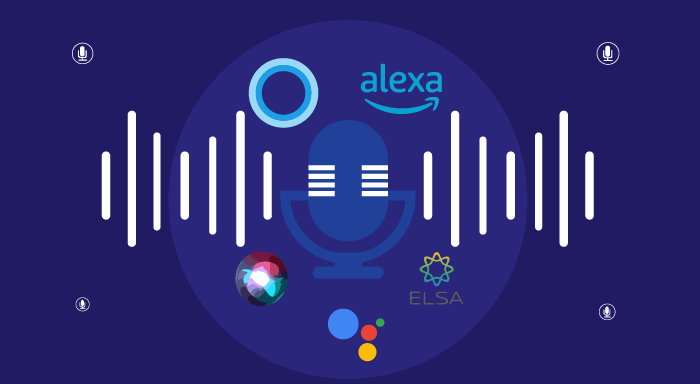 1. Amazon Alexa
The Alexa AI-powered virtual assistant is used on more than 100 million devices and 25% of people. Alexa can perform your tasks like creating a to-do list, setting up alarms, voice interaction, music playback, playing audiobooks, streaming podcasts, & allow your other real-time performance.
Other than this people prefer the Alexa voice assistant for its more favorable feature that include wake-up words & real-time information on traffic, news, Bollywood, and more. Alexa is Amazon's cloud-based voice service that is manufactured through a third party.
2. Google Voice Assistant
The population of Google Voice Assistant users is 36% and it is available on more than 1 billion devices. In comparison with all other voice assistants available in the market, Google Voice Assistant has the highest preference. Because Google Assistant is available in more than 30 languages as well as in more than 90 countries around the world.
As a feature, it can make an automatic voice or video call to your connection, send WhatsApp messages, send emails, and text using other apps. Not only but also it can make real-time translations, task completion, create voice or text entries, reminders & appointments, and other voice-activated control performances.
3. Apple Siri
No doubt that the popularity of Siri voice Assistant is unbounded. It is also the most usable virtual voice assistant service of the Apple brand. This one is mainly available for IOS, macOS, tvOS, and other watchOS devices mainly used for voice recognization and powered by Artificial Intelligence.
Depending on Natural Language User Interface (NLUI) and voice queries to enable itself for performing multiple useful functions. The Siri voice assistant is used by 36% of people globally for calls, texts, flank knowledge, raw exploration, smart homes, navigation (maps), Music podcast, movies, and more. You can also add the shortcuts of Siri on your iPhone.
4. Microsoft Cortana
Microsoft Cortana is and only competitor of the Siri voice assistant that is used by 19% of the total population. Generally, Cortana relies on Natural Language Processing (NLP) technology and the Bing search engine. With the help of API (Application Programmable Interface), Microsoft Cortana can work with Windows and other third-party applications.
Furthermore, Cortana is capable to work with multiple platforms such as Windows 10, window mobile, Mixed Reality Android Alexa, and more. When it comes to its features it's the top one as it does provide all the functionalities that other voice assistants do. It can find facts & definitions, set reminders, manage calendars, schedule appointments, take notes, open apps on computers, join meetings, etc.
5. ELSA Speak
If you're using a voice assistant application for study purposes then you must proceed with ELSA Speak voice assistant as it is using 61% of students and 1% of other people. Students prefer this service because the ELSA Speak assistant provides notes, Activities, Practices Excercise, Queries, Vocabulary, and Grammar.
The ELSA Speak mainly performs for educational purposes but also assists in other assignments. You can find the services like short dialogues, Instant feedback, track progress, fun content, and a trial period, and also you can improve your proficiency level.
Global Usage Statistics of Voice Assistants
There are 27% of people operating the Voice Assistant using their mobile devices.
41% of adults use Voice Assistant Services in the United States only. On the other hand, teenagers use it 55% of including records only.
As this it is a very quick solution provider so, 70% of the people use its search services just because of the instant result.
More than 60% of the population like to use voice assistant services they are alone at home just because of their personal preference.
It is reported that 70% of people use its voice services instead of texting.
55% of people are completely satisfied with the services of the AI voice assistant beside 43% want to make some changes based on their needs.
Among all the assistants, Apple Siri and Google Assistant are the most usable Artificial Intelligence Voice Assistants.
Approximately 50% of people are assuming that they will make the purchase with the help of voice assistants in the next five years.
The responding ability of voice assistants is satisfied by 94%.
Google Assistants provides the longest voice searches for people queries in comparison with all other assistants.