YouTube automation is the process of automating tasks ranging from preparing the content of YouTube videos to analyzing your performance after your video is posted. This makes the entire process very efficient. It doesn't deal with the automating audience's engagement with your channel. With YouTube automation, you can more efficiently create high-quality, original videos and attract more viewers to your channel.
The purpose of YouTube automation is to attract an audience that you can monetize through various methods, like by providing advertising space in your videos.
Significance and Top Benefits 
With YouTube automation, the process of making, and posting videos plus analysis of videos becomes very easy. This ultimately makes the process of profit-making very easy. It is the second-largest search engine and highly trafficked website globally. Hence it is the best platform to earn. Also if your channel has more views then you also get ads with which you can also earn. It also offers a YouTube Partner Program, which requires 4,000 watch hours and 1,000 subscribers.
You don't need to show your face to earn money. You can easily work from home and earn money without showing your face on the camera.
Running a YouTube channel requires a lot of tasks. These tasks are very time-consuming. With automation tools, you can simplify and increase the speed and efficiency of every task. This makes the entire process of your YouTube journey more efficient.
Enhanced analytics and insights
Just posting your videos is not enough you also have to check their performance, and other important aspects like audience engagement, watch time, and viewer demographics. These insights help in optimizing content strategies and keeping viewers. You can use tools like Social Blade, VidIQ, and Google Trends for this purpose.
Examples of YouTube Automation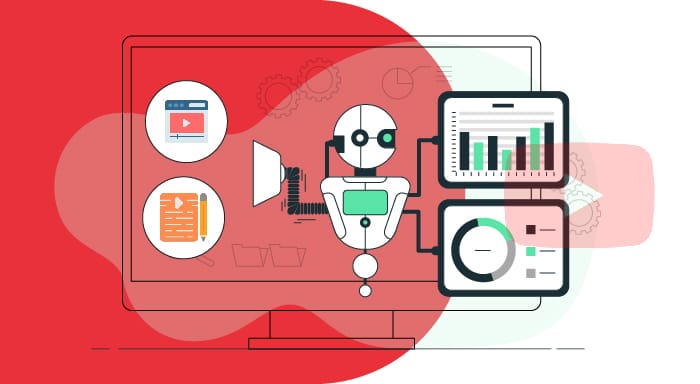 Search Engine Optimization is the process of optimizing your content to rank higher in search results. You need to find specific keywords for which you want to rank. You can use applications like VidIQ and Keywordtool.io for that. These tools will also analyze their search results, trends, and competition.
You have to prepare a proper script for your YouTube videos. And there are even tools to assist you with this. You can also hire freelance writers from portals such as Upwork and Fiverr. Or you can even generate script ideas from AI tools like ChatGPT, Jasper, etc.
This is a very time-consuming process. But there are video editing software platforms like VidIQ, Vimeo, etc. which have features like thumbnail generators, automatic transitions, AI prompts, video templates, etc these help speed up the entire editing process and also structure the video. You can even hire freelancer video editors if you want.
Channel Management and Analytics
After publishing your video then comes the content management and analysis part. You can use applications like YouTube Studio for managing and analyzing your performance.
You can use applications like Metricool, to connect your YouTube account and manage all aspects of your channel. It helps you with scheduling YouTube videos and Shorts, auto-publishing content for you, conducting competitor analysis, repurposing content, and sharing it to multiple platforms.
Other than that there are some hidden YouTube hacks and secrets that you can use to get the most out of YouTube in a shorter frame of time.
YouTube Automation using Python
Decide the topic of your channel: Based on your interests and aims, decide your channel's theme.
Find out the best content online: You can find content from various sources online like memes from Twitter or Instagram. You can even scrape and download all the videos from Instagram posted in the last 24 hours. This is done with Python and the Instagram API. you can use Python libraries like Instalooter and Instaloader for this. This process will go through the list of accounts you are following, and then download all the videos posted there in the past 1 day to an output folder.
Edit videos: You have to edit your videos in a single compilation. This makes the process of editing very easy and convenient. This is done by a Python library called Moviepy. This process will look into the specified folder with videos, and combine them into a single video in random order.
Publish your video to YouTube: Finally, you have to post your video on YouTube. This can be done by using the YouTube API. You have to first create a new YouTube channel and then complete the API Quick Start. Then you can start uploading your videos whenever you want.
Cleanup: If you run this every day and keep all of our videos stored on your system, then you will run out of storage. Hence you must delete the temporary files you created which includes the compilation as well.
Now repeat steps 2–5: Now you are done with all the processes. So you can put it all into one function i.e. main.py in the GitHub. A new compilation video will be posted on our channel every day when you set our computer to never turn off.
Best Tools for YouTube Automation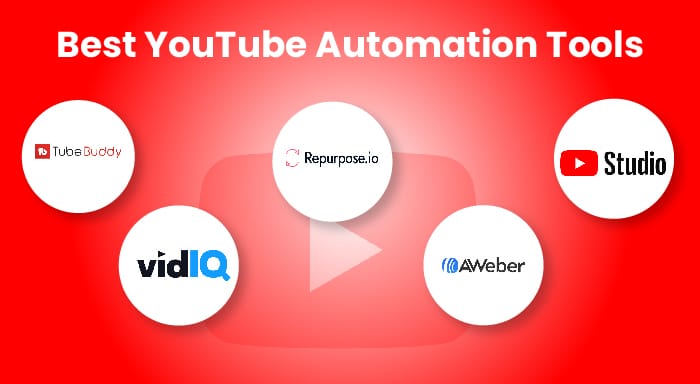 1. TubeBuddy
This is a widely used tool by YouTubers.it is best for automating tasks and performing bulk actions. It is available in the form of a plugin and a browser extension with features to upload, manage, and grow views on your YouTube videos. You can even add suggestions to make your videos appear in more search results and suggested videos.
Features
It has AI tag suggestions to translate titles and descriptions into other languages. Then YouTube approval checks are automatically run.
You can change cards, descriptions/titles, delete comments, add end screens, and create thumbnail overlays in bulk.
You can create multiple default profiles, descriptions, and tags for your different topics and also choose the most relevant to the video you're uploading. You can only add one per video.
It offers keyword tools.
It has free and paid plans.
2. VidIQ
It is a YouTube automation tool that helps you enhance your content and build your views and subscribers. It asks you questions and the answers you give and based on your YouTube channel it gives you suggestions on the topic ideas, trends, success stats, keyword opportunities, AI-optimized titles, descriptions, tags, competitor stats, monetization reports, and tracking. It can also promote a specific link or topic across all your YouTube descriptions at once. It reduces the time to research the content ideas.
On paid plans, it offers a bulk description tool that can help you get enormous views on your new videos. It has free and paid plans.
3. AWeber
YouTube videos take time to grow organically if your subscribers aren't notified about it. Also, you have to make people engaged in your YouTube videos to grow your channel. The more views you get the more your video will rank high on the searches and appear in suggested videos. It is an email marketing tool that can also help you promote your YouTube videos via email. It can send emails to your subscribers at any time when a new video is published on your YouTube channel. You just need to ask your YouTube subscribers to sign up for emails and then you can update them with emails whenever you want. It has some special tools for small businesses like automatically adding new customers to your email list, sending abandoned cart emails, etc. it has free and paid plans.
4. YouTube Studio
It is the best free YouTube automation platform. This is the best platform to increase your YouTube video accessibility and views. You can upload, and manage your YouTube videos here. Also, you can get analytics on your YouTube videos.
It has features to automatically generate subtitles and chapters for your videos. Subtitles increase accessibility since people can watch your videos without sound and people who don't know your language can also watch it. Chapters allow people to jump directly to the section of your video they want to watch. This also increases your views and accessibility as the people who are not interested in watching the entire long video will also watch the part they want.
5. Repurpose.io
This is the best tool to convert your YouTube content into videos for other platforms in order to promote your channel more and get more views. This way you will drive audiences of other channels on your YouTube channel.
It will convert your YouTube videos into videos optimized for TikTok, Instagram Reels and Stories, Shorts, etc. It also has features to convert your full videos into clips. Plus you can add headlines and designs, choose videos based on hashtags and playlists, etc. If you want then you can also manually publish your modified videos on other channels, or set them up to go out automatically. It has free and paid plans.
Success Stories
It has over 4 million subscribers. It is an automation channel with one of the highest numbers of subscribers. It makes videos for life hacks to science experiments and mysteries. They make the most captivating content. The secret to Bright Side's success is its ability to deliver complicated information in an appealing and simple-to-understand way. Their aim is to make the videos in an interesting way something different from boring educational channels. They use both licensed videos and animation techniques to make the videos unique. They earn over 6 figure incomes with YouTube ads only.
As the name suggests this channel is for fitness enthusiasts. It has over 1.26 million subscribers and over 100K to 200K views on every video. They provide videos for animated workout routines, nutritional tips, and advice on maintaining overall well-being. They provide guidance to viewers on their fitness journey. They use automation techniques using highly researched and facts-based scripts. This channel generates income through ads displayed in its YouTube videos. They also partner with fitness brands, supplement companies, and workout equipment manufacturers for sponsored videos and endorsements.
Some Downside of YouTube Automation
YouTube automation requires a lot of upfront investment. Even if you hire people to work for you or buy automation tools. Everything and every process is very costly.
Significant income generation is slow
Achieving a significant number of subscribers for automated channels is slow.
The average‌ time it takes for a new YouTube channel to reach 1,000 subscribers is between 12 to 18 months and for automated channels it is an average of 254 days to get 1,000 subscribers. Hence you need to have enough perseverance.
Your channel can be banned
With excessive automation and detection of suspicious activities, like using bots for views, likes, comments, or subscriptions your channel can be banned. Hence focus on quality content and avoid unnecessary automation.
With excessive use of automation tools, you may end up creating low-quality, repetitive, or spammy content. It can affect your channel's reputation and turn off viewers. It will decrease your subscribers and views.
With excessive use of automation tools, you can lose a grip on your personalization. And personalization is the key to connecting with your audiences.
Conclusion
YouTube is a great career option these days. It has uncountable benefits. Many people hence are now becoming YouTubers. But the process of creating and posting is not simple stuff. It requires a lot of time, effort, and many processes. These processes can be fastened and made more efficient by using youtube automation tools. These tools even provide you analytics so that next time your performance improves. If you are planning to start your own YouTube channel then you must check out the YouTube automation tools.