Point of Sale can be a physical or virtual place from where a customer pays for the goods and services. In more technical terms, it is the point where sales tax becomes applicable.
As we mentioned earlier, a POS either could be a physical place like a store check out or a virtual place like a website or online store. The common thing between both is the POS terminal or system that are used to process the payments via cards, cash, online transaction, etc.
There is another related term called Point of Purchase (POP) people often confuse it with the point of sale and interchangeably use both of them. The point of purchase is a quite renowned term among marketers and retailers. The broad meaning of POP is the area that surrounds the POS. In these areas, shopkeepers usually kept their promotional products. The point of purchase is a crucial factor that is taken into consideration while placing the consumer products because it can increase the frequency of impulse purchases.
What is the Point of Sale (POS)?
Unlike before, when POS was just a cash register where you keep the money, a point of sale system has evolved into much more. Now, it includes inventory management, reports, employee management, receipts, and even CRM (Customer Relationship Management). Don't be overwhelmed with all this information, we're going to elaborate everything further in the blog.
Let's have a look at what POS has to offer you:-
Nowadays, most small and medium-sized businesses (SMBs) prefer to have cloud-based POS services so there is no need to be a physical server in multiple locations.
Retailers now want to integrate their POS applications with other business applications like CRM and inventory management so that they can have more accurate reports.
As you may be aware, there are various kinds of payment methods available like cards, cash, contactless payments, NFCs, etc. The advanced Point of Sale software coming accepts all such payment methods.
Marylise Tauzia, product marketing and evangelism lead at Square tell us what retailers are missing when they don't implement a POS in place. She said, "[Retailers] run the risk of slowing down their operations and missing critical data that could help them grow their business faster. Having key insight about their customers, their inventory level, and when they should order more supplies are examples of information a POS provides."
Statistics showing the importance of a POS system
Julia Morton, a Senior Advisor for Point of Sale software buyers said, "Finding the right POS system for your business can eliminate a lot of manual entry and reporting errors down the road. Many of these systems are similar in nature, but there are key features that stand out in different systems that can make all the difference. For example, finding a system geared to help apparel stores with heavy inventory needs, grocery stores that need scale integration, or service-oriented restaurants or cafés that need menu optimization."
23% of business leaders would like to upgrade their point of sale infrastructure or even invest in any new POS system. Bear in mind, this survey was conducted post-pandemic.
On the other hand, 43% of businesses still would like to stick to their pre-pandemic point of sale infrastructure.
Those businesses who have integrated POS in their workflow have witnessed an increase in sales by 200% and that's by the reporting feature only.
POS Usage Statistics (Based on Application)
The recent queues suggest that the global point of the sale software market is set to grow at a sustainable rate over the foreseeable future. Based on the current research the POS system market is set to witness a revenue gain of $10,294.9 million by 2028. Currently, in 2021, the yearly market revenue is $4,536.3 million USD. From the period between 2021 and 2028, the CAGR is expected to be 11.1%.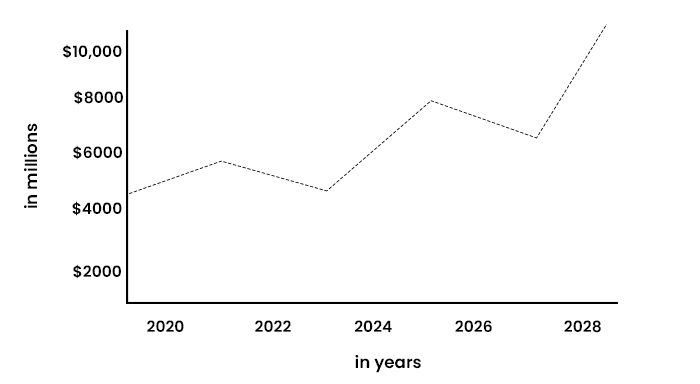 As of now, the POS systems are segmented into two categories i.e. fixed and mobile. Let's see how the end-user market utilizes both types of applications. At present, fixed systems are dominating the market. Most big firms opt for this system because it is a one-time investment and installation cost. However, mobile-based POS applications are gaining popularity because of their flexibility and scalability. Industries like restaurants, healthcare, retail, hospitality, warehouse, distribution, and entertainment are even using point of sale systems for inventory and employee management.
On-Premise POS vs Cloud POS
Some people may also know of On-premise (or installed) as POS terminal on the other hand cloud POS as a hosted POS solution.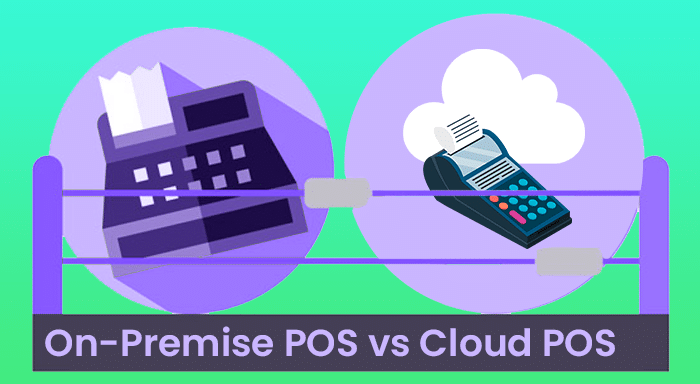 On-Premise
In an on-premise point of sale system, the user needs to buy one or more licenses and then install them to the computer system. Later the user can make upgrades to the software as per their requirements. The major drawback is, you may need to hire a dedicated person who can manage and operate the software. Apart from that, you may also need other hardware accessories.
On-cloud
On-cloud POS is the more accessible and scalable solution as compared to traditional on-premise. The user only needs a stable internet connection and a device like a smartphone, laptop, tablet, etc to use the application. The installation cost and the running cost are significantly low too.
Case Study
On-premise POS would be a perfect fit for a small shop that does business only in one location and one cash register. The owner of the shop can easily purchase the license and install it on his/her own computer system. In the future, the shopkeeper can upgrade the solution as per business requirements. However, there will be some investment to do in POS hardware like barcode scanners, cash drawers, card readers, terminals for contactless transactions like NFC, etc.
On the other hand, a fast-food restaurant chain with multiple points of sale terminals at different points should adopt a cloud-based POS system. The major benefits include a centralized payment processing system, inventory management, customer loyal program, etc. The main objective of using a cloud-based system is that all systems and POS terminals can efficiently contact each other.
Major Hardware Components of Point of Sale (POS) System
As we mentioned above, regardless of which type of POS you choose for your business, you still need some hardware. In this section, we are going to enlist some most common and essential POS hardware.
Monitor/Tablet: This will let you interact with the customer and product database. You will also be able to manage and overlook the inventory through this. Apart from that, you can also track the employee's clock-in and clock-out timings that will allow you to manage the workforce properly. Nowadays, shopkeepers prefer tablets over the monitor because they can walk around with them throughout the store, unlike bulky monitors.
Barcode scanner: Almost every product comes with a barcode nowadays. There are black and white vertical lines at the back of the packaging. A barcode scanner reads these lines and pulls out product information including price. So the scanner made the whole checkout process simpler and faster. The barcode scanners are usually integrated with inventory management and point of sale systems, which allows them to track and adjust the stock.
Credit/Debit Card Reader: A card reader allows the customer to perform cashless transactions on the go. After the implementation of EMV law (Europay, MasterCard, and Visa) in 2015, it became mandatory for retailers to have EMV compliant POS software.
NFC Readers: NFC payments have become quite popular these days because of the lightning-fast checkout process, even faster than credit cards. NFC is based on the near-field communication technology that exchanges data between reader and payment device in seconds.
Receipt Printer: Yes, we're aware customers now prefer their receipt by email or via text. Still, a paper receipt is important as they provide an instant overview of purchase.
Gist of it
Choosing a Point of sale application is a long-term investment and don't forget a hectic task. Irrespective of the business size, whether it's small or large, no one wants to keep upgrading their POS system in a short span of time. So, you need to choose a solution by keeping flexibility, scalability, and your business model at the back of your mind. Being said that you will find a bunch of options like Square, QuickBooks, Shopify, etc and at least one of them would be nearly ideal for your business.