Search Engine Optimization (SEO) is the process of making the best or most effective use of keywords, phrases, web-linking, and website UX to make the webpage more visible on any search engine. Search engines can be Google, Yahoo, Bing, etc. The goal is to generate more website traffic.
Better visibility on Google SERP (Search Engine Results Page) leads to better traffic on your website. More traffic on your website means more leads.
Organic search leads to 53% of the total website traffic. Nowadays if people want to buy any product, go to any place, or try something new they first search about it on the internet. They first want to do some research about it. If your website has a higher ranking on Google then there are more chances people will buy products from your website. Also, SEO is more sustainable in comparison to traffic generated through social media platforms as ads on social media platforms are usually paid. Hence whenever your subscription ends the traffic from your website is gone.
SEO involves activities like
Identifying and including relevant keywords that are searched more or that have the potential to be searched more
Creating quality and beneficial content for the audience
Optimizing content for search engines
Including relevant links.
Types of SEO
Technical Optimization– This is not related to the content it only involves activities related to improving SEO to improve ranking on search engines.
On-page optimization- These are the activities done by the content management team that includes targeting the right keywords within the content. It is done to ensure that content is relevant to the site and gives a good experience to the users.
Off-page optimization- It includes all the activities that are done outside the website to increase the rankings of your website. Like providing links to our website on articles, social media sites, and other advertising platforms, etc.
SEM (Search Engine Marketing)
This is the paid version of SEO. SEO is an organic and time-consuming process, whereas SEM is paid and quick process. SEM is a digital marketing strategy to increase the visibility of your website on search engines by paying the search engines. Google Ads is one of the services that provide paid promotion on the Google Search engine.
Similarities between SEO and SEM
Keyword research and optimization are required for both. It's not that you can post content without quality just by paying money. Paying money just makes the process of ranking fast the quality of content is still not compromised.
Their ultimate goal is generating online traffic.
You need to create landing pages for both SEO as well as SEM.
Differences Between SEO and SEM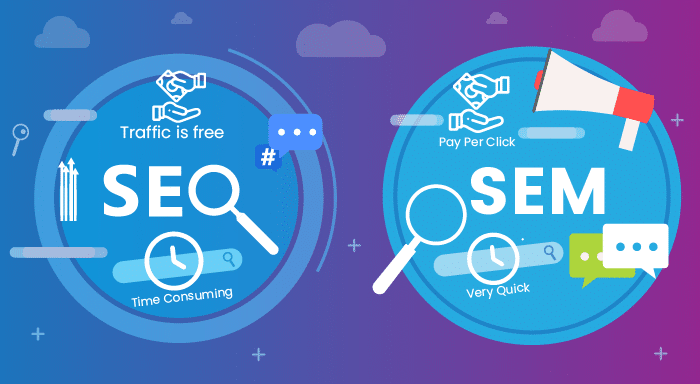 | | | |
| --- | --- | --- |
| | SEO | SEM |
| Position | Ranking based on many criteria | Appears on top of any search engines |
| Time | Very time-consuming, and can take up to months to get the results | the very quick job is just done in minutes |
| Payment | Website traffic is free | You need to pay whenever someone clicks on your website. You have to pay per click (PPC). |
| ROI | It's difficult to measure the ROI. But with time it gives a good ROI. | ROI is measurable but with the passage of time, it can decline if the ad is gone. |
| Share of traffic | 70-80% of people click on organic results | Only 20-30% click on paid results. |
How a Search Engine Works?
People use search engines whenever they want information about something. The search engine uses its own algorithms which are computer programs that look for clues to give users the results they are looking for. Search engines by their algorithms find web pages and decide to rank them based on specific keywords.
The steps of working with search engines are-
Crawling
Search engines send out web crawlers/spiders/robots to find new pages. The job of web crawlers is to discover new web pages, and periodically check the content on pages whether they've changed or updated. Then record information about them. Google uses a method called Crawl Budget to scan websites.
Indexing
Here search engine decides whether it's going to use the content it has crawled or not. If it finds a crawled webpage suitable it will add it to its index. This index is used at the final ranking step. It is also stored in the database for further use. If the content is plagiarised, spammy, or lacks inbound links then it will not be indexed by the webpage crawler.
Ranking
This is the final step after the content is crawled and indexed it will be finally ranked. There are 200 ranking signals through which search engines use to sort and rank content. The content should fit within all types of SEO i.e. technical SEO, on-page SEO, and off-page SEO.
Benefits of SEO
More website traffic– When a website is ranked better it will have more traffic which will ultimately create brand awareness.
Increase of leads– When you'll have more traffic and increased brand awareness there are chances for getting more qualified leads.
Gaining trust and popularity among people- If your website is better ranked on Google then people will trust and rely on it more. This will lead to a reputation among people.
Increased ROI- Gaining more leads and customers will obviously bore you more money. Whatever money you invest will not go wasted.
SEO Tools
It does the job of measuring your performance, traffic, time on the page, number of pages per session, engagement on the page, etc. It is free of cost. Google Analytics is probably one of the most used tools for measuring website metrics.
Search Console is used for technical SEO generally. It is used for web vitals, granular query analyses, indexing, etc. It is free of cost. There are some advanced Google Search Console features you can try out.
It is used to find realistic keywords that are necessary for higher ranking. It is free of cost. Here, you can check the estimated search volume of keywords. You will also get suggestions and related keywords.
Conclusion
Nowadays no business can prosper without digital marketing and SEO is the first step toward digital marketing. In order to excel in your business digitally you need to be at the top of search engines. Being at the top will only generate more traffic on your website which will give you more leads and customers. This will only build your brand reputation. Hence to be at the top you need to make the best quality content according to the requirements of SEO.