Nearly all business act wrongly while publishing their social post, want to know why? Actually, they post their existing stuff randomly without any planning, strategy, or new creation. Which can break the continuity of their potential customers as well as the engagement of their current customers. To escape from this condition, most organizations do look for a way to which they can use for organizing, planning, & posting their brand's content concisely. Are you looking too?
The intensive course is pinpointed as the "Social Media Calendar" that works as a reminder for all staff members who are highly occupied with their tasks. By publishing your brand's content socially and widely you can let your audience know how well the products & services you are establishing. Not only but also you can hit your customers' attention directly and pitch them indirectly using Social Media Calendar" Strategy.
Using Social Media Calendar you're allowed to run multiple campaigns on different social media channels and reach your target audience comprehensively. If you will use the Social Media Calendar then you can present your ideas consistently and keep your content prepared for national & official festivals. Let's get the go-ahead for deep information.
What is Social Media Calendar? What are its elements?
The Social Media Calendar can be defined as a software application that is used to schedule forthcoming events and execute them by hitting the deadline. Furthermore, you can also use Social Media Calendar platform for organizing the copy, photo, spreadsheet, and other content in a single spot.
The Platform will keep you on ahead of time so that you won't forget to post paramount content & also save you from publishing excess & irrelevant content in a hurry. Marketers use this platform to be updated about all ongoing strategies and manage content without getting perplexed. 
Elements of The Social Media Calendar
The content must include the page link, tags, name link, full name of the document, UTM (Urchin Tracking Module) link, hashtags, etc.
You need to set the required date and the time at which your content is going to be live.
The visual assets must appear in your content.
Social media Channel and the particular account.
The objective of the post must be clear.
The content should have a trendy and valuable topic.
Why do you need to use the Social Media Calendar for your Brand?
As it is the modern time of technology so you can easily broadcast your brands by creating updated, prevailing, and eye-catching content. On the condition of posting that content, you need to be aware of the right time of posting, the valuable audience to target, relevant text, and more. Here the Social Media Calendar will help you to spread your brand reach by publishing your post at the right time with good possibilities. 
Moreover, using the Social Media Calendar you can target your new audience with the prebuild post that will save you from new creations. By scheduling in advance you can publish your demanded post on time even if you are not present at the moment.
Not only, but also, Social Media Calendar will allow you to publish your content consistently within a series, and also you can organize your entire posts in a particular move.
How to Schedule your Post?
Usually, there are multiple ways available in the market to schedule a post, task, etc many of them have different scheduling strategies. On this condition, here you'll find a general scheduling way that may work commonly. 
Click on the composer and schedule your post. You can schedule posts like tweets, posts, stories, pins, etc.
Then create the content you want to post and click on the next option.
Later, go to schedule and fix the time and date in the calendar icon at which you want to publish your content.
Click on Done! And scheduled.
After scheduling your social post you can check them as well at which date and time you have scheduled. By doing this you will be updated on your existing publishing and will be aware of when to schedule your further post. This will provide a consistent flow to your work and attract the audience universally.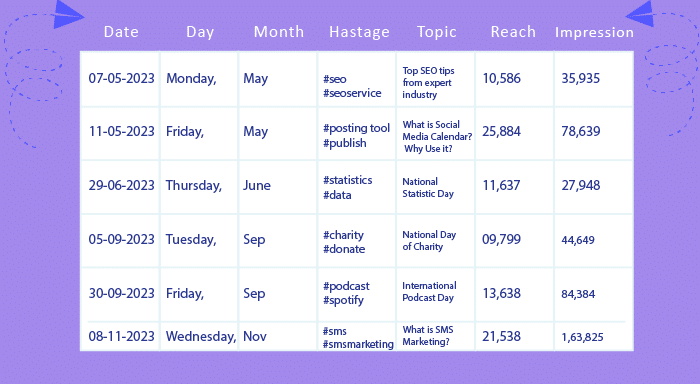 How to Create a Social Media Calendar?
You don't need to go anywhere to learn how can you create your social media content calendar since here you'll get the complete information. You just have to follow the below points & you will get to know about social media content calendar creation.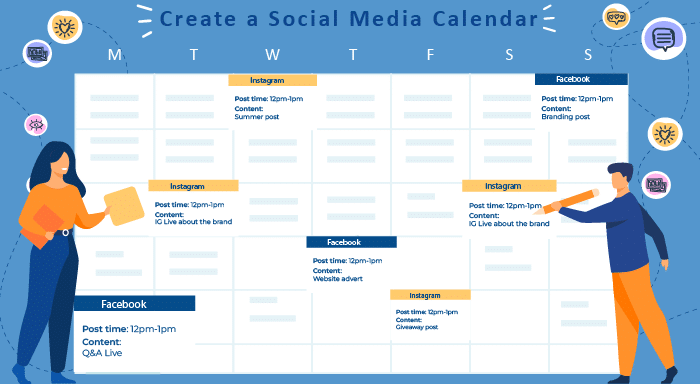 1. Analyze your social network and Content as well
Check out your all existing social account before you start publishing your content. This will give a clear picture of your posting task. And check out the below points as well.
Control your team members according to their special abilities.
Be aware of account security and password
Redirect your most booming posts, campaigns, and tactics.
Target Goals and KPIs for every branded account using the platform.
Use key metrics for better measurement of your campaign at each platform.
Following the mentioned points, check out your clients' engagement with your content, their frequency, posting period, and impact on the conversation.
2. Select your social media Channel and content marketing mix wisely
In this phase, you need to choose the social media channels at which you will publish your content and also choose the content perfectly. This will clear your mind such as what type of content you need to post that may match your product and social trend too.
Also, make sure which social channels you need to use most in terms of your business. Because all the content doesn't match with all social channels.
Take the Social media Rule of Third in Use
Your One-third post must include personal interaction with your followers.
Your One-third post must have curated content.
Your One-third of posts should nurture your content and drive discussion and reporting.
Follow Pareto Rule
80% of your post should be informative, trending, entertaining, educative, engaging, and competitive.
20% of your post must promote your business and drive traffic.
3. Determine the Involvement of your Social Media Calendar
Date
Time
Platform
Tracking Information
Posting link
Hashtag
Copy
Visuals
Link to asset
To make your content attractive you may also add some advanced information such as
Geo-targeting (here you can include the location like America, Europe, the United Kingdom, etc)
Mentioned whether your product is paid or organic (If is paid then don't forget to mention its price)
Must include information like product launch contest etc.
Specific platform, or may run at all platforms.
4. Take internal review and feedback
No doubt that the Social Media Calendar is used by all kinds of the industry so make sure that your calendar is quite usable and attractive too. So, for better testing, you need to test it through your own team first and take their feedback. It's essential to track and analyze your social media performance regularly. This will help you determine what types of content are resonating with your audience and adjust your social media calendar accordingly. You can use tools such as Google Analytics, Sprout Social, and Hootsuite Insights to analyze your social media metrics.
Conclusion
In conclusion, creating a social media calendar is a crucial step in your social media content strategy. It helps you plan and organize your content, stay consistent, and achieve your goals and objectives. By following these six steps, you can create an effective social media calendar that engages your audience and drives results.