In this era of digital marketing, no business can sustain itself if it is not on digital platforms. People are now very comfortable buying everything online. Even businesses want to expand their reach globally. This is only possible if they have their own online websites from where people can buy. Below some e-commerce website builders are discussed which will help you to create your own eCommerce website and online stores without much technical knowledge.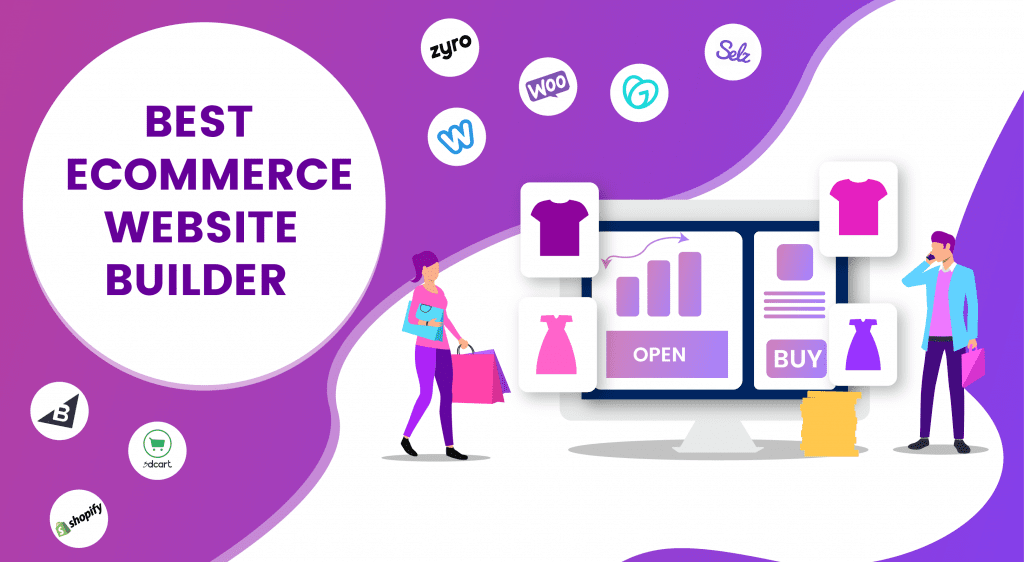 1. Shopify
Shopify makes it easy to build an e-commerce website without the requirement of any coding skills. More than 1 million eCommerce websites today are built on Shopify.
Features
Shopify offers abundant professional templates.
These offer many built-in features like SSL certifications, domain hosting, custom domains, abandoned cart recovery, etc. These features make the day-to-day work of businesses easy plus help them to find customers and make sales.
It provides a built-in mobile commerce shopping cart, which enables buying from mobile or tablet.
You get full access to the store's source code so that you can customize your e-commerce website according to your needs.
Most eCommerce stores and has integrations from Shopify. Also, Shopify payments make it easy to take payments online.
It can integrate over 100 payment gateways like ShopPay, PayPal, etc.
Many Shopify apps are there to extend your online store's functionality.
Over 100 professional themes created by world-renowned designers, such as Happy Cog and Pixel Union
Built-in mobile commerce shopping cart, so shoppers can buy on any mobile device or tablet
Full access to your store's HTML and CSS so you can customize every aspect of your eCommerce website
Search engine-optimized stores to help potential customers find you online
It has a customer support team that is available 24*7 through email, live chat, as well as phone.
It has free trials after that it is available with paid subscriptions.
2. 3dcart
It is basically for building websites for brick-and-mortar businesses. If any retailer wants to sell their products online then this is the best option for them. It offers mobile-responsive themes and sales reporting with affordable pricing.
Features
More than 160 payment gateways are integrated.
90+ free templates.
Built-in SEO functionalities for better search engine rankings.
You can also recover lost sales since it has abandoned cart notifications.
It also has integrations with Zapier.
It is free for up to 15 days and then available on paid subscriptions.
3. Weebly
It is best for small to medium-sized businesses since it offers online stores without much maintenance. It is powered by Square. You can build a website on Weebly for free but you can use your own domain name or get rid of unnecessary ads only if you buy a plan. The free plan offers features like real-time shipping and coupons.
Features
Website builder and management platform
Many functions to edit bulk batches of products and import/export information.
Websites that are mobile optimized
For paid plans, it has coupon builder options to create promotions in your online store.
Builder and media library
It has both free and paid plans.
4. Squarespace
It is the best platform for those who want to create a creative website. It offers drag-and-drop builders and you don't require much technical knowledge for creating a website.
Features
Various templates where you can customize the text, images, colors, etc.
Images can be scaled.
Ability to sell an unlimited amount of products.
Finance, marketing, sales extensions
Email sequences after purchase
Payment is only accepted through Stripe, Afterpay, PayPal, and AfterPay.
If you buy its advanced plan then you can also sell gift cards.
It is available for free for up to 3 days and after that on paid subscriptions.
5. BigCommerce
It is best for big businesses. It offers web hosting. Technological businesses can scale from immense customization options.
Features
SEO apps and SEO (Search Engine Optimized) stores
International selling capabilities and multi-channel selling capabilities on social networking and other online sites. Also for international sales multi-language and multi-currency support.
Themes can be customized.
Digital wallet payment options.
6. GoDaddy
It is the best platform for beginners to build a website. It can be used to create both a website as well as an online store. It has designs built through artificial intelligence hence you can create a website in minutes.
Features
Tools for SEO optimization and email marketing campaigns.
More than 100 mobile-friendly templates
Integrations with social media platforms eg Facebook, Instagram, etc.
Various payment gateways
Integration with Square Point of sale so that you can connect to retail and online businesses.
It is available on paid subscriptions.
7. WooCommerce
It is an open-source eCommerce website builder. It is not an independent website builder it's a WordPress plugin that can be used to add features to your website. Hence if you want to use WooCommerce you have to work with a developer.
Features
You can manage website features like secure payments, inventory, tax management, shipping integrations, etc.
Features can be extended with many WordPress plugins and themes.
Mobile-friendly stores to make it accessible on mobile also.
Features
You will have complete control over customer and business data and it's highly secured.
World a wide community where there are 350 contributors.
Open source code to have complete access to each element of your website.
It is available for free.
8. Zyro
If you don't want to build your website from scratch then there is a very good option for you which is Zyro. By using this you don't have to build a website with a lot of effort.
Features
Drag and drop builder of 24 professionally designed templates, which can be customized. Drag and drop grid features and editors are also available for editing web elements.
Integrations with Google Analytics, Google Tag Manager, and Facebook. It helps in learning about the customers which will improve your marketing and advertising skills.
A CRM to manage emails, and discounts.
Marketing and SEO tools.
One dashboard where you can track and see customers' activities
It is available on paid subscriptions.
9. Selz
Best platform for building an eCommerce website for beginners. It helps to sell your products across many e-commerce platforms.
Features-
Various website themes are available.
It provides options to add buy buttons.
Web hosting, SSL certification, and payment gateways.
It has drag and drop store builder and a built-in blogging platform and a shopping cart.
From one dashboard you can manage all social media channels.
It is free for up to 14 days after that it is available on paid subscriptions.
10. Wix
Wix is the perfect eCommerce website builder for individual retailers, as it is a non-technical website builder.
Features
Drag and drop builder
Web hosting, customizable templates, and domain name registration
Track orders, sell on multiple channels, build abandoned cart campaigns, and accept online payments
Paid plan also has tax calculators, dropshipping capabilities, and low-stock alerts
Simple editing interface
Integrations with Google Shopping, eBay, Facebook, and Instagram.
Gives free SSL certificates
SEO-optimized product pages for better Google ranking.
You can build a website for free but for selling that website you need to buy its subscriptions.
Conclusion
Nowadays no business can prosper without shifting to digital platforms. More and more people prefer shopping online through digital platforms. Hence, to succeed in your business, you need to be digitally active as well. You need to create your own website from where you will reach your target audience. But creating a website requires a lot of technical skills and not everybody can be technically sound. So what's the solution to that? The solution is these eCommerce website builders discussed above which will help you build your own e-commerce websites through its various templates and features. Most of them have an open source code so that you can even customize everything according to your own preferences and requirements.