No code is a software development approach to build software or an application without much or any programming skills and coding. Due to this, you can build apps and tools without the knowledge of coding. This helps businesses a lot as it is easier for them to work with software tools.
Introduction To No Code Automation
No code is a framework where software systems are designed in such a manner that entire software programs or applications can be made without any coding. It eliminates the use of programming languages and syntaxes and instead focuses more on logic, visual approach, and instant delivery. The non-coding tools have user-friendly interfaces and drag-and-drop functionalities. Non-technical people through visual interfaces and drag-and-drop tools can create an entire application or software. This technology can be very helpful for no technical enterprises, small and emerging businesses, or freelancers. Not just websites or applications, no code is also used to make voice apps, software tools, integrations, etc. even chatbots can be created with no code.
In no coding platforms, there is an abstraction layer over code, the fundamentals of the coding are translated into a simple drag-and-drop solution. Through this, you can build your applications.
Benefits
No training required- Without no code technology users have to get the basic training of coding to make any kind of software or tools. But with no coding, they don't have to undergo any such kind of training.
Cost-effectiveness- Non-coding eliminates the requirement of IT staff which is very cost-saving for many organizations. Also in many organizations, IT staff can handle more complicated tasks of programming. This saves a lot of time for employees and money for the organization. This also boosts the productivity of the employees and the organization.
Cost of development is reduced by 80%– The traditional programming and DevOps approach for the development of software is very expensive.
Fast processes- there is no process of coding required to build a product hence the process becomes very fast and efficient.
No-Code Technologies And Approach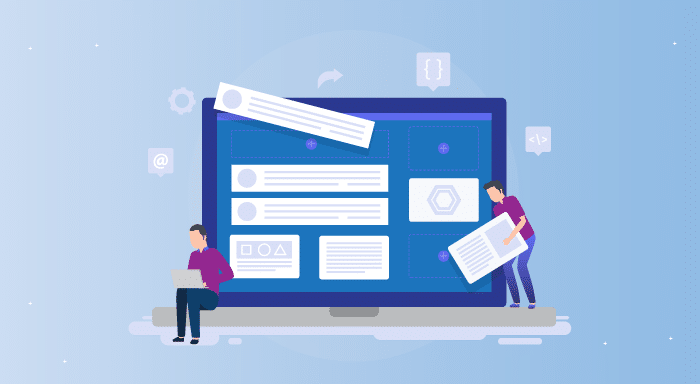 No-Code technology is creating software or an application by using a graphical user interface without any coding or programming skills. The user interface has all drag-and-drop elements through which an application can be created quickly.
No code approach is the approach that enables non-technical people to create applications and softwares using drag-and-drop user interfaces without the need to write any code.
Features Of No-Code Development
The must-have feature in a no-code platform is;
Building the UI (User Interface)- Your no-coding platform should provide you with such an interface that you should be able to build the entire webpage with just a single function i.e. drag and drop. All the features like header, footer, forms, tables, images, etc should be inserted by drag and drop within seconds. It should also be able to integrate with Angular to provide more flexibility.
Workflow without code- You can manage the entire workflow without using any code.
Integration- You can integrate your application with other useful applications by using no code.
Mobile friendly- Your no-code platform should offer you mobile capabilities, i.e. all the features and functionalities should be compatible with the mobile also or can be customized for mobile usage.
Analytics- You should be able to get customized reports and analytics by using no code. No coding should be required for analytics also.
Compatibility with different devices and browsers- With your no-code platform you should be able to build applications that are compatible with different browsers and devices.
Connections of databases- Your no-code platform should have either pre-configured databases or server-side applications. Otherwise, it should provide an interface for connecting to your desired database.
Best No-Code Platforms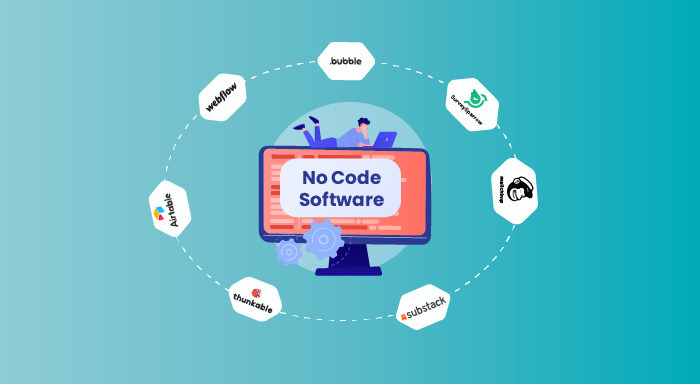 1. SurveySparrow
It is one of the best no-code platforms to build surveys, generate new leads, improve customer experience, analyze extracted data, find pain points, close feedback loops, etc.
Other features include NPS and AI surveys, quizzes and online polls, chatbots, customer engagement and satisfaction surveys, building forms, and providing a 360-degree feedback tool, etc. It has a free plan with limited features and paid subscriptions with other features.
2. Webflow
With Webflow you can build amazing websites. It has become a choice for many large enterprises and even startups to build websites. It has drag-and-drop features, pre-loaded templates, and many other features and functionalities that give you amazing results. The templates are customizable and it also gives an option to create a template from scratch. You can create a full SaaS website and e-commerce websites with it. You can build your custom website from scratch on the visual canvas. Its basic plan is $12 per month and there are other subscriptions as well.
3. Bubble
The Bubble has a no-code app builder feature where there is a visual set of components to assemble and launch fully functional end products. There are many options for customization as well. With Bubble, you can create software, applications, dashboards, social networks, CRMs, etc. Without having any HTML or CSS knowledge you can create the components and layouts of a website.
4. Mailchimp
Mailchimp definitely needs no introduction; it is the most renowned marketing automation software. But it is also a no-coding platform where you can create software tools without using any code. With Mailchimp, you can create custom domains, generate new leads, convert more leads to customers, grow your target audience, and boost sales. You can create amazing landing pages and Instagram and Facebook ads with it to boost your sales. You can collect your customers and lead data, categorize them, and analyze them. It also helps you to launch social media campaigns, and conduct surveys. It also offers integrations with applications like Square and LiveChat. If you are looking to grow your customer base then Mailchimp is the best platform for you. This also makes MailChimp one of the best platforms for startups and emerging businesses. It has free and paid subscriptions as well.
5. Automate.io
If you are looking for integrations with your desired applications without having the knowledge of codes then Automate.io is the best platform for you. It can integrate with over 200 apps without a single line of code. There are simple bots inside Automate.io between two or multiple applications that put the user's work on autopilot. The bots refresh at regular intervals and users can even pause it manually. In its drag-and-drop interface users can set up their triggers and actions between the applications. Every functionality is pre-set in this application hence you can do anything without any coding. Automate.io supports workflow automation between two or more applications. Its interface is easy to understand.
6. Airtable
If you are seeking spreadsheets and databases without the need to write a single line of code then Airtable is the best platform for you. The platform brings spreadsheets and databases together to automate workflows, organize tasks, and deliver projects, without any codes. It makes the function of creating and collaborating very easy. Airtable can combine the functionalities of spreadsheets and Google Sheets together. It can bring any spreadsheets and databases together in a single program. You can organize any type of information, compile customers and leads lists, organize a calendar of events, etc without writing a single line of code. Airtable offers a modular system for building customized tables. Hence you can create whatever you need with Airtable not just be restricted to basic spreadsheets. Because of its many advantages, many organizations are switching from spreadsheets to Airtable. Its pricing starts at $10 per month.
7. Thunkable
It is one of the most ideal solutions to build mobile applications and digital creations. It has drag-and-drop functionality through which you can connect to a variety of components and construct workflows for your own application. The mobile application created by it is compatible with both Android and iOS. It also offers a variety of open-source projects for free. This allows you to create applications from scratch for Apple and Google Play stores.
8. Substack
If you want to make your content the best in the market then Substack is the best platform for you. After all, content is the king of every business. With Substack, you can create newsletters, publish your writing, build communities, and get paid. This makes Substack the best platform a writer or freelancer could ever wish for. You can get a complete website for your posts, email addresses, images, gifs, audio, videos, etc. You can get all of these without writing a single line of code. The app takes care of everything that a writer needs so that they can deliver their best content. Its pricing is quote-based.
Future Of No-Code Development
The future of no-code development is definitely bright as it allows people from backgrounds other than IT also to develop software applications and tools. According to a survey around 64% of the software applications will be developed by low code by 2024. However, it's difficult to measure for the no code as the market is still not very clear about the difference between low code and no code. Many low-code platforms also offer no-code options while some offer customization options using JavaScript or other programming languages.
No code development will definitely reduce the demand for traditional coding skills but still, no code cannot replace developers as uniqueness cannot come from technology entirely. The uniqueness of an application can come from the human mind only. No code can definitely free developers time and they can concentrate more on other complicated tasks. No coding cannot completely eradicate the needs and demands of developers in the market. However, no coding will come more into use in the market with time as both non-technical and technical people will switch to no coding instead of basic traditional coding.