Let's dive into the world of artificial intelligence and get to know what it can automate for you. This article will enlighten you on the topic of AI, its stages, and the Top 10 AI tools. So, without making it extra intricate, let's move further.
Artificial Intelligence is the process in which human brainpower is programmed through automatic machines. Artificial intelligence is executed via different technologies such as deep learning, machine learning, and so on.
AI (Artificial intelligence) assists you in operating your all monotonous as well as fascinating tasks with its different variations. The multiple interpretations of Artificial intelligence are automation, productivity, complicated issue resolving, decision-making, security, global defense, personalization, and more.
What Artificial Intelligence Can Do For You?
In the present age, artificial intelligence has replaced human beings where it performs not only professionally but unvarying too. Consequently, you don't need to go out when the AI can automate all your tasks from home. Let's have a look at what it can do for you.
Since AI has generated from human intelligence, in brief, it can also automate emotional-based, preference-based, decision-based, & other human-based pieces of work for you. Moreover, Artificial Intelligence includes Natural Language Processing, Computer Vision, Facial recognition, and other kind of services. So, in this article, we will reveal you Top 10 AI tools that will automate your work and make it easy for you.
What Are The Three Stages Of Artificial Intelligence?
No doubt that artificial intelligence is a comprehensive intelligence service that has been spread out throughout the world. In every information technology, AI plays a significant role. So, here we'll discuss the all stages of Artificial Intelligence from the basic to the advanced level. Let's get to know!
ANI (Artificial Narrow Intelligence)
This one is the basic form of AI technology since it can perform only a single task at once. Apart from it, operating the Artificial Narrow Intelligence you can't apply any knowledge or information on the other task that you've received from the first.
AGI (Artificial General Intelligence)
In a basic format, you can say that Artificial General Intelligence is the problem-solving stage of AI technology.
This is because the AGI stage has the faculty perform the human task and understand the issue, identify the solution, and apply a resolution. Not only but also, set up highly complicated tasks without the interruption of human beings.
ASI (Artificial Super Intelligence)
Artificial intelligence is a hypothetical agent that performs all advanced tasks of the machine learning field. Artificial Super Intelligence is the last stage where you find the solution for any issue. Including all three stages, we'll let you know about the Top 10 AI tools that will ease your every task and solve all issues.
What Are The Top 10 AI Tools of the Market?
The variety of AI tools hasn't any limit since it does cover different categories of work & can enhance your business in a more intelligent & quick way. So, let's come to the introduction of the top 10 AI tools within their categories.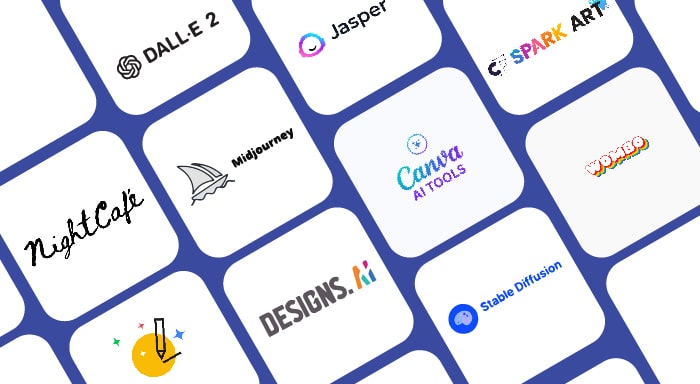 Top 10 AI Image Generator Tools
Midjourney is one of the best image-creator tools that does not require artistic knowledge to operate. Also, it does perform by mimicking desired artistic styles.
The Midjourney is a little unique as it is accessible only through the Discord platform and is a cloud-based platform. Using this you can transform a simple image into a professional look with the help of Photoshop and Lightroom.
Stable diffusion is an AI image editing tool that does carry the goal to provide quality-based images over traditional techniques. With the help of this tool, you can enhance the prebuilt image in terms of color and texture.
Stable diffusion is a closed-source AI tool but the stability of this platform has made the diffusion source code available.
The Canva AI Art app is a little bit different from others as here you have to write the text regarding your image as you want. Later n, the application will automatically generate the four images that match your written text.
This one is too basic so if you are new to this field then this tool is best for you.
If you are looking for an application that can generate the image for your marketing content then you must move towards this one.
The Jasper Art AI tool has multiple modes for user-friendly working from basic to advance you use can choose your stage and start working with its brand voice feature.
In case of a low budget, the Dream By WOMBO AI tool is the best as it is specially designed for the Mobile application whether it is Android or IOS. With the help of this AI tool, you can convert text and pictures into AI-generated images.
And complete your image-generating work just by operating your mobile phone.
Just like the other app, this one is also an AI Art generator tool but the impressive thing is that it allows you to access the various AI algorithm. In addition to this, you can run multiple AI Art creating tools from a single place such as DELL-E 2, Stable Diffusion, etc.
This application will give a variety for generating images like Oil Painting, Pixel Art, Illustration, and more.
The AutoDraw AI Art tool allows you to convert your doodles into fantasy images with just one click. As you will put your doodle into this app then this one will show you the images & shape' suggestions.
And then you can simply turn it into the image by clicking on the best suggestion. Moreover, allow you to add text and color to your line-drawn images.
This one is specially designed for marketing purposes where it will allow you to generate extensive graphics logos as well as videos. Furthermore, it will assist you in generating text-to-speech and text-to-video.
This one is a user-friendly and easy-to-use platform that is a part of creative fabric's AI-supported toolkit. If you're a beginner in the image-generating field & want to create images without much hassle & within very less time then you must approach this application.
This one is the most popular tool for image generation as it can create the image directly from textual description. It can create complex images by handling vague and abstract concepts.
The DALL-E 2 has a noteworthy upgrade from the prior generative models like GPT-3 and StyleGAN.
Top 10 AI Copywriting Tools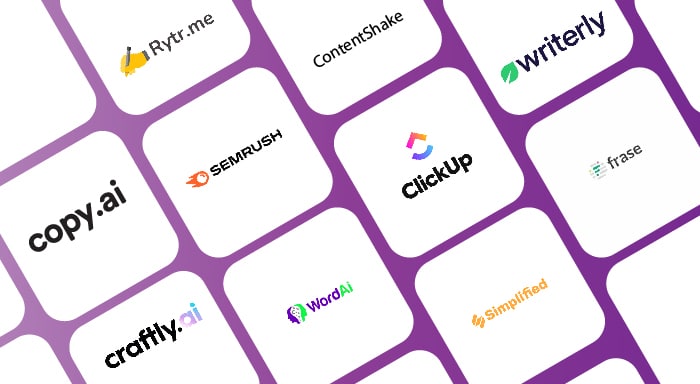 ClickUp is a writing tool presenting packed-feature functionality that performs your work very quickly. Along with this tool, you can write compelling copies of the content and keep all of them in a single place as it will provide you the tools for this.
SEMrush SEO Writing Assistant
The SEMrush SEO Writing Assitant AI tool is better than all others, in case you want to provide fluency to your content. This is because, this software can provide tone of voice, SEO relevancy, authenticity, and fair readability to your content.
It gives you some advanced features like optimizing more than 30 keywords, checking plagiarism, and assisting in providing Google Docs and WordPress plugins.
The Rytr platform is designed based on OpenAI's GPT-3 API. But this platform can provide you the advance level functionality. Here you will get the prebuilt template for forty-use cases.
The most impressive feature of this tool is that it will allow you to write content in more than 30 languages where you can also use 20 tons and style for your content.
For marketing purposes, the Simplified platform is best for you since it'll allow you to create content for landing pages, product descriptions, & other marketing objectives.
With this platform, you can create content with the availability of 30+ languages and 10+ tones and also will get 50+ various different generation content.
The Frase AI writing tool allows you to write SEO-based AI content within a matter of seconds. By operating the Frase AI tool you can write the content for marketing copies.
Additionally, it'll allow you to analyze the Search Engine Result Page & evaluate competitors' content & strategies for writing the optimized content for your website & other marketing goals.
WordAI is also an advanced AI copywriting tool since with this one, you can write content from web copy to product description including sale pitches. It will allow you to reconstruct, rewrite, and rephrase the content
WordAI is a natural language processing-based AI tool that can write more than 1000+ SEO-based rewrites from a single piece of content. The content you will rewrite and reconstruct from this tool will not be captured as a duplication even if you will detect it from any AI-detecting tool
Copy.ai assist you write prompt and decent content and also offers you templates for the article, emails, social copy, and for more categories.
Other than this, will give a content library from which you can choose the suggestion and style category for the content you are looking to write. As you will choose anyone, your content will be developed automatically via this AI tool.
The Writely AI tools do write content for marketing, customer support, and e-commerce business. Apart from this, it will also offer you the Chrome extension through which you can check out your article or keyword for ranking & other facts by browsing it there.
The Crafty is a copywriting AI tool with the most advanced artificial intelligence and language technology. Just by operating this AI tool, you can write documents and utilize reports.
Using the programming functionality of this software application you can build projects as it does use the natural language. Operating this AI copywriting tool you can give a similar style and design to your entire content.
The ContentShake is a recently launched AI copywriting tool that is mostly suitable for freelancers and other content creators can use it too. It is an ideal AI tool with an easy managing procedure and instant performing actions.
The best feature of this AI software is that it provides the tools for modifying the pre-written content and making them SEO-relevant. Additionally, here you can get the prebuilt template that you can directly use based on your needs.
What Are The Benefits Of Using Artificial Intelligence?
Operating the widely available artificial intelligence service you can take multiple benefits and escalate your business growth rapidly. Therefore, let me walk you through the points that will describe the advantages of AI services.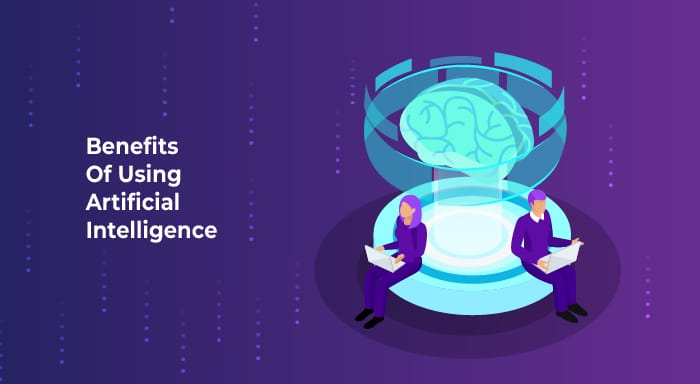 As Artificial Intelligence can coordinate the different aspects of your work such as data delivery, data development, consistency, information analysis, and data trending work. As a consequence, AI technology can make the perfect decision for your business by having knowledge of the surrounding, marketing, and competitors.
Resolution For Complicated Issues
Artificial Intelligence technology has made all complicated development or coding-related error issues very simple using computer science.
AI technology has progressed from the basic level to the advanced level where it can simply identify the errors that you are unable to see or detect and can also rectify them.
AI technology is the one that provides the highest Cyber security and does save your entire work.
Artificial intelligence interacts with the transaction information from multiple applications so it can easily eliminate the cause of data theft. As artificial intelligence does consume millions of data from
Artificial Intelligence has designed multiple astonishing software applications that can perform your all repetitive tasks by itself. Moreover, it does reduce the time period that you take for task completion and eliminates a lot of hassle.
AI technology has a wide range of applications & power of integration so you smoothly synch it with other applications & can automate that platform's task as well.
As all the tasks would be done under a systematic program and machine intelligence so you can expect error-free task termination here.
The AI technology allows you to perform your all manual task in one instance so the chances of errors will be automatically minimized or removed completely.
Intelligence and Instant Engrossed
There is no doubt that all artificial intelligence software is intellectual and instant that performs your entire task efficiently. As all the work will be performed in a machinery way so you expect fair and accurate work.
Moreover, it is automatic software so all the work will take place in a matter of seconds. And your all deadlines will be fulfilled within a reasonable time and flow.
By operating artificial intelligence in your business, you can deliver a one-by-one solution to your customers that will improve the personal experience of your customers.
The AI technology is capable of catering to your audience with the exact match and can meet the customers' needs individually.
Conclusion
As everyone has leaned towards artificial intelligence for their different need whether it is for business purposes or for personal use we all do use AI. This article will make you aware of the strength and potential of Artificial Intelligence and what it can automate for you. Moreover, here you will introduce the top 10 AI Tools and some of the best AI benefits. So, without doing it more delay let's read out the main content.